Philippines drugs war: ICC announces initial inquiry into killings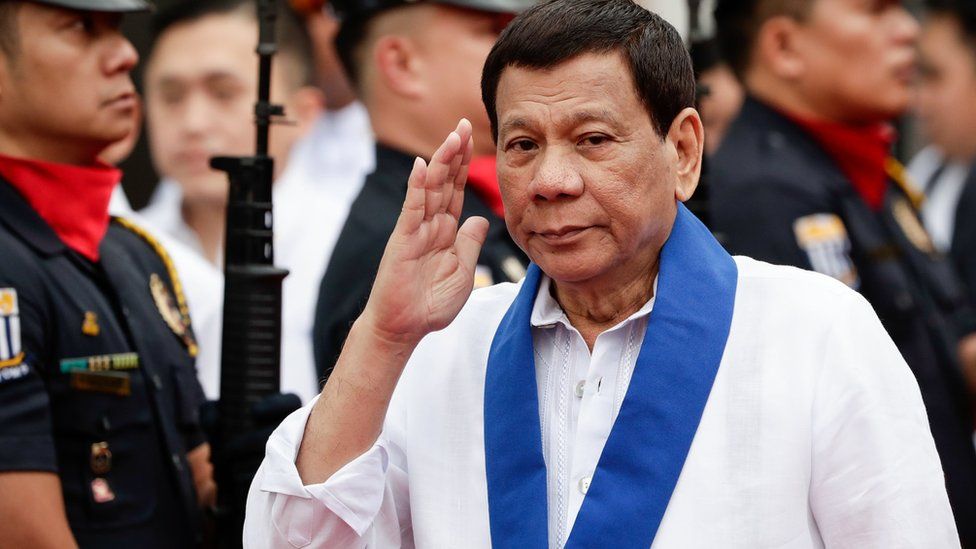 The International Criminal Court (ICC) is to open a preliminary inquiry into alleged crimes committed during the Philippines government's war on drugs, its chief prosecutor says.
Fatou Bensouda said it would look at reports of extrajudicial killings.
President Rodridgo Duterte's policy of endorsing such killings in the drugs war has drawn widespread condemnation.
Ms Bensouda said an initial examination would also be opened into the use of excessive force in Venezuela.
The government of President Nicolas Maduro has faced accusations of human rights violations following protests last year in which more than 120 people were killed.
Ms Bensouda said she had "closely followed" the situations in the Philippines and Venezuela and after "a careful, independent and impartial review... I have decided to open a preliminary examination into each situation".
She stressed that the examinations by the ICC - based in The Hague - were "not an investigation" but a process of examining information "in order to reach a fully informed determination on whether there is a reasonable basis to proceed with an investigation".
With regard to the Philippines, she said her office would analyse alleged crimes committed in the context of the government's "war on drugs".
"Specifically it has been alleged that since July 2016 thousands of persons have been killed for reasons related to their alleged involvement in illegal drug use or dealing," she said.
"While some of such killings have reportedly occurred in the context of clashes between and within gangs it is alleged that many of the reported incidents involved extrajudicial killings in the course of police anti-drug operations."
President Duterte's spokesman, Harry Roque, dismissed the ICC's examination as a "waste of time and resources".
He said Mr Duterte had employed "lawful use of force" against threats to the country.
Amnesty International welcomed the ICC's announcement on the Philippines, saying it marked "a crucial moment for justice and accountability".
"This announcement is a warning to leaders around the world that those who order or incite crimes against humanity including murder will not be able to get away with it, and will be subject to investigation under international law," said James Gomez, Amnesty's south-east Asia director.
Ms Bensouda said that, for Venezuela, her team would focus on alleged crimes committed during anti-government demonstrations since April 2017.
"In particular, it has been alleged that state security forces frequently used excessive force to disperse and put down demonstrations, and arrested and detained thousands of actual or perceived members of the opposition," she said.
Years of economic and political turmoil have left Venezuela with the world's highest inflation rate and shortages of basic goods, including medicines.
President Maduro has blamed the country's woes on "international economic sabotage".
The EU and the US have imposed sanctions on Venezuela over alleged human rights violations.