Cambodia deports seven tourists accused of producing pornography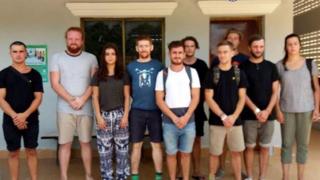 Cambodia has deported seven of the ten foreign tourists charged with producing pornography.
The group was arrested in January after images emerged of people appearing to imitate sex acts at a party in Siem Reap in the country's north-west.
Seven of them, from the UK, New Zealand and Canada, were granted bail last week and have now left the country.
Three others - from the UK, Norway and the Netherlands - will face trial for allegedly organising the party.
All 10 deny the allegations against them, saying they had not been nude and did not produce any pornographic material.
The seven people that have been deported were ordered to leave Cambodia as part of the bail decision and not return, although the charges against them have not been dropped, reports said.
Images of the event posted on an expat-run website showed several couples clothed or in swim wear on the floor of a villa, apparently acting out sexual positions.
The town of Siem Reap is the gateway to the ruins of Angkor Wat, Cambodia's main tourist attraction.
Popular with backpackers, the city's nightlife scene has rapidly grown over the past few years and sometimes placed tourists at odds with Cambodia's socially conservative culture.