Pakistani Taliban deputy Khalid Mehsud 'killed in drone attack'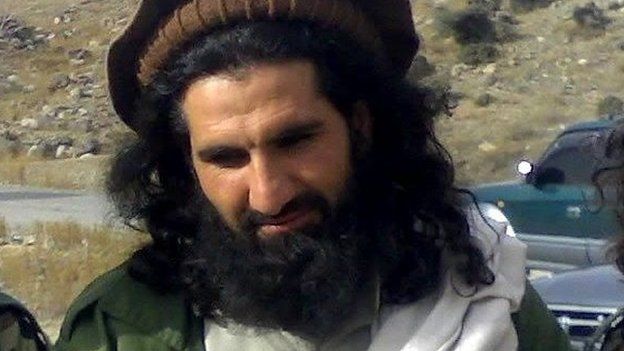 The Pakistani Taliban say a senior militant, Khalid Mehsud, has been killed in a US drone attack.
Mehsud was deputy leader of the banned Tehrik-e Taliban Pakistan (TTP), the main faction of the hardline Islamist Pakistani Taliban.
He was killed in a drone strike on Thursday in North Waziristan, near the border with Afghanistan, the militant group added in a statement.
The TTP has been blamed for dozens of suicide bombings and other attacks.
In December, gunmen from the militant group stormed a college in the Pakistani city of Peshawar, killing at least nine people and injuring 36.
Mehsud's death would further weaken the Pakistani Taliban, who have been forced to reduce their activities due to a relatively successful Pakistan military offensive, BBC Urdu's Haroon Rashid reports.
Pakistani officials claim many TTP militants have been forced to take refuge in Afghanistan as a result, our correspondent adds.
By M Ilyas Khan, BBC News, Islamabad
Mehsud, also known by his alias Khan Said Sajna, is the most important militant leader to have been killed since the August 2016 killing of Hafiz Saeed Khan, leader of so-called Islamic State in Afghanistan and Pakistan.
Mehsud has kept militant attacks going not only against military targets in South Waziristan but also at times deeper inside Pakistani territory.
He can be described as a true successor to the first two chiefs of TTP - Baitullah Mehsud, the group's founder, and Hakimullah Mehsud.
His influence can be seen from how he defied Mullah Fazlullah - who officially became the third TTP leader after Hakimullah's death in a drone strike in 2014.
Mehsud refused to accept Mullah Fazlullah as TTP chief, mainly because Fazlullah did not hail from the tribal region, and was living in Afghanistan due to the absence of his own base on Pakistani soil.
Fazlullah tried to retaliate and sideline Mehsud by naming his rivals as the head of the TTP in South Waziristan - but was forced to give in after Mehsud's supporters fought and defeated Fazlullah's nominees.