Malaysian newspaper's 'how to spot gay person' list sparks anger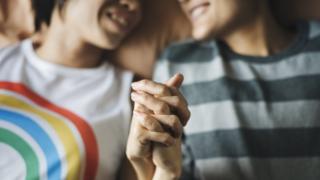 A Malaysian newspaper has sparked protest and ridicule by publishing a list on how to spot gay people.
According to the article, gay men can be identified by their beards, and lesbians by their fondness for holding hands.
Activists are warning it could put lives at risk in the conservative country.
Homosexual activity is illegal in Malaysia under both secular and religious laws.
The Malay-language Sinar Harian newspaper ran an article on Friday about how LGBT people can be invited to seek religious counsel.
As part of the story, there was a checklist on how to spot a gay person. Aside from sporting beards, gay men like to go to the gym to check out other men or to wear branded clothes, the list said.
Lesbians, according to the list, like to belittle men and walk around holding hands and hugging each other.
"I was absolutely baffled by this article," activist Arwind Kumar told the BBC. "And obviously I was disappointed with how misleading the content was. It was pure nonsense."
'Will people beat me up?'
The article first sparked criticism on social media and was then picked up by Mr Kumar for a Youtube video.
In the widely shared clip he goes though the list of alleged claims, dismantling them and showing how illogical they are.
He points out that priests and religious authorities in Islam often grow beards, holding hands is quite common among women or girls and that a liking for branded clothes is also very widespread.
While activists like him have no trouble speaking out, he says that many others are "filled with so much of fear in them".
"Transgenders have been murdered in this country," he explains. "Soft or feminine guys have been bullied and harassed in such ugly ways. There's always this worry. That if I 'come out', what would happen to me? Would people beat me up? Would I be thrown into the pits of depression?"
Mr Kumar said he received a lot of feedback but that because the alleged gay characteristics are so general, most people found it silly rather than dangerous.
"Many of the messages I got were saying things like 'if men with facial hair are gay then my dad, uncle and grandfather are all gay'."
The influence of religious hardliners has grown in Malaysia in recent years, often pitting religious fundamentalists against those campaigning for greater rights for the LGBT community.
Last year, the health ministry launched a contest for young on how to "prevent" homosexuality, sparking protests from activists that it could increase hatred and violence against LGBT people. The ministry later made changes to the competition.
In March last year, the release of Disney's Beauty and the Beast was postponed in Malaysia, because it contained "a gay moment".
Despite demands from the Malaysian censorship board, Disney refused to remove the scene and the board eventually conceded to show the movie uncut.