Japan's worries about North Korea's 'charm offensive'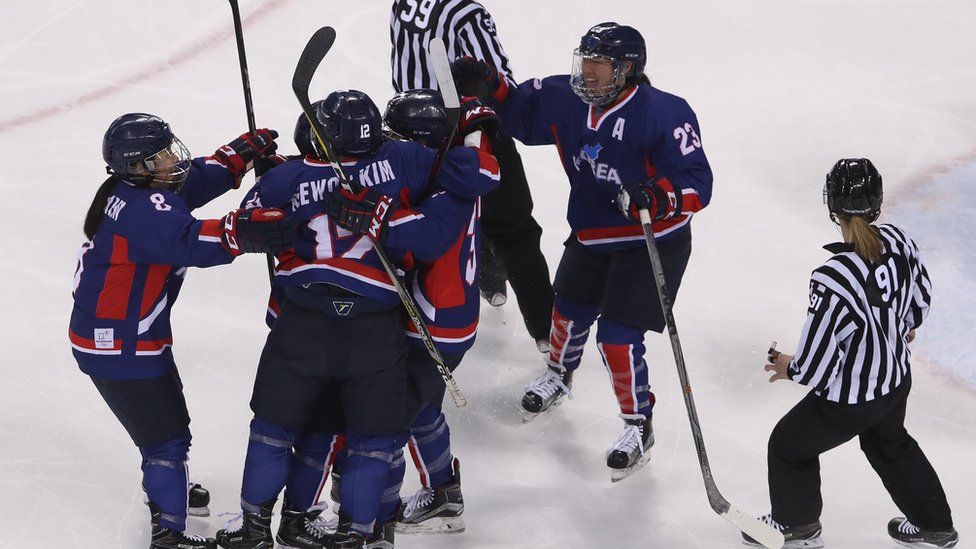 It was half way through the second period when Randi Heesoo Griffin fought her way down the right wing and slipped the puck between Japanese goalkeeper Akane Konishi's pads.
The puck slid in to the net and the crowd went wild. In the stands, the ranks of red-clad North Korean cheerleaders erupted.
For the first time in Olympic history a unified Korean women's hockey team had scored a goal, and not just any goal, this goal was against Japan.
You could have been forgiven for thinking the Korean team was winning. In fact, by the end they had lost 4-1. But they had scored a goal. And if sheer desire to win had been the decider, the Korean women would have trounced their Japanese opponents by a mile.
"The North Koreans feel the same as us," South Korean player Choi Ji Yeon said before the game. "We told each other that we're going to have to win this game against Japan no matter what."
North and South Korea may still officially be at war, they may have thousands of artillery and missiles pointing at each other across the DMZ. But one thing can unite them like nothing else, a collective desire to beat Japan.
Speaking to the Korea Times, South Korean high-school student Min Seung-won summed up the mood: "I was initially against North Koreans joining our team, but the match against Japan means a lot to us as a nation. I hope the North and South Korean players can come together more unified because of the historical tension, to win the game against Japan."
The "tension" she talks about is the anger or even hatred that many Koreans feel towards Japan because of its brutal occupation of the Korean peninsula during the first half of the 20th century.
It is an occupation that includes the sexual enslavement of tens of thousands of Korean women during World War Two.
For Japanese Prime Minister Shinzo Abe, watching from across the Sea of Japan, or the "East Sea" as it is known in Korea, the goings on at the Winter Olympics in Pyeongchang are making for uncomfortable viewing.
Speaking about the Olympics a few days ago, former South Korean Vice Foreign Minister Kim Sung-Han declared: "North Korea clearly appears to be winning gold".
He didn't mean its athletes, he meant North Korea's extraordinary switch from firing missiles to an all-out embrace of the Pyeongchang Olympics, so much so, some have started referring to it as the "Pyongyang Olympics" after the capital of North Korea.
Mr Abe would almost certainly agree. In an interview before the games began, his foreign minister, Taro Kono, told me he was worried South Koreans could be taken in by the North's "charm offensive".
And what a charm offensive it has been. The high point has undoubtedly been the three-day visit to the South by Kim Jong-Un's own sister Kim Yo-jong. With her she brought a winning smile and an invitation for South Korean President Moon Jae-in to visit Pyongyang.
All of this is bad news for Prime Minister Shinzo Abe. It threatens to undermine the whole basis of his government's policy to stop North Korea's nukes.
For the United States, North Korea's growing nuclear arsenal may soon represent an existential threat. For Japan it already does. Last year the North flew two long-range missiles right over Japan. There is also a strong suspicion here that, in any military conflict, Pyongyang would rather use its nukes on Tokyo than Seoul.
"We can never allow another Hiroshima or Nagasaki to happen again," a retired Japanese general told me recently.
And so Prime Minister Abe has staked out a very hard-line position. In every statement since the weekend "love-fest" in Seoul, Japan has made it clear it does not want President Moon to go to Pyongyang.
Professor Andrei Lankov of Kookmin University in Seoul eloquently articulates Japan's fears about what Pyongyang is up to. In a piece for the website NKNews he writes: "The North Koreans are brilliant diplomats, who know how to exploit the weak points and divisions of their enemies.
"Since mid-December, North Korean diplomacy has largely been about two goals. First, Pyongyang is working hard to reduce the probability of a US-initiated military strike against it. Second, it is doing what it can to drive a wedge between Seoul and Washington."
Japan's Foreign Minister Taro Kono told me he believes sanctions against the North are "starting to bite", the embargoes imposed late last summer are beginning to really hurt the North Korean economy. That he believes is exactly why Pyongyang has launched its Olympic charm offensive - to buy time and to get the choke-hold relaxed.