Gita: Ex-cyclone brings damage and flooding to New Zealand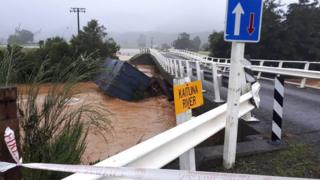 New Zealand has begun cleaning up after being hit by the remnants of Cyclone Gita, which damaged buildings and left thousands without power.
Four regions across the country remain in a state of emergency, though the status has been lifted for the city of Christchurch.
Up to 1,000 people are still stranded in Golden Bay on the South Island due to flooding.
Authorities say they may send ferries to pick them up.
But Christchurch has largely escaped flooding, having received about half the amount of rain originally forecast.
"We were lucky this time," said Christchurch Mayor Lianne Dalziel, who lifted the state of emergency at 11:00 local time on Wednesday (2200 GMT on Tuesday).
Numerous roads still remain closed across the country as repair efforts begin.
Nelson Tasman, Selywn and Westland on the South Island and New Plymouth on the North Island remain in a state of emergency.
A state of emergency gives extra powers to police and the army to take control of a situation if necessary during disasters.
Gita, which was downgraded on Tuesday from a tropical cyclone to a storm, brought coastal waves of up to 7m (22ft).
It split in two systems as it moved across the country.
Community halls in Christchurch and other districts are providing shelter for those affected by the weather.
Around 40 Chinese tourists were also trapped in the South Island town of Whataroa and had to spend the night in their buses after roads were closed due to unsafe conditions.
Dozens of schools and remained closed on Wednesday.
Footage on local news websites showed powerful winds slamming the west coast on Tuesday afternoon, damaging properties.
Trucks delivered sand to the areas at risk of flooding with residents queuing to fill bags to stack around their homes in the hope of protecting their belongings.
Gita last week left a trail of destruction in the Pacific island nations of Tonga and Fiji.
Tonga in particular is reeling from the storm, which injured people and destroyed buildings including the parliament.