Jacinda Ardern 'creepy' 60 Minutes interview sparks anger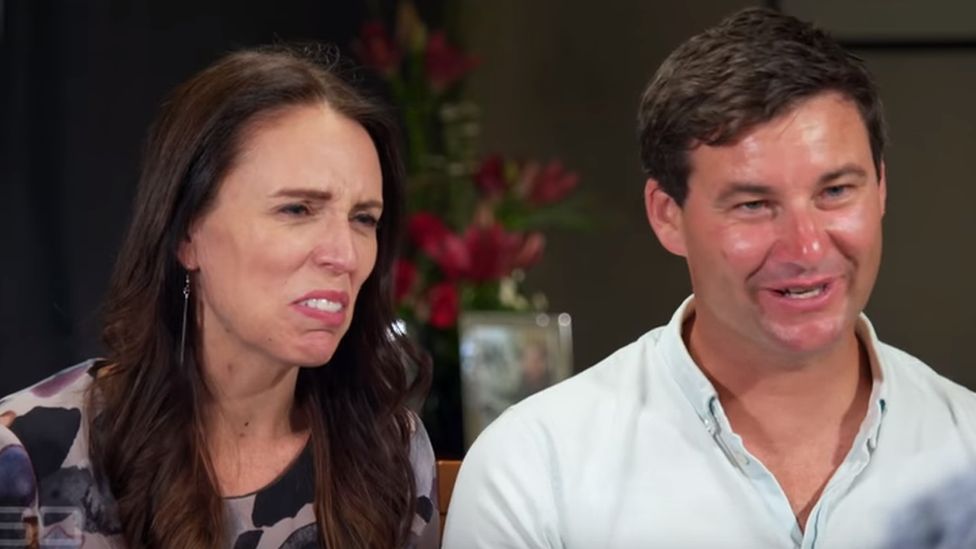 An Australia TV interview with New Zealand Prime Minister Jacinda Ardern in which she was called "attractive" has been widely criticised as "creepy".
In an interview on current affairs show 60 Minutes, veteran reporter Charles Wooley said he was "smitten" by the PM.
He also asked Ms Ardern, who recently announced she is pregnant, when her baby was conceived.
60 Minutes later defended itself, saying it was showing the "human side" of its interviewees.
But Ms Ardern told reporters that she was "not fazed" by the line of questioning.
"It's fair to say that I couldn't recall there being anything from the interview that particularly stood out to me," she said on Monday.
The 60 Minutes interview was a profile of Ms Ardern, who, at 37, became New Zealand's youngest prime minister in over a century in October last year.
"I've met a lot of prime ministers in my time, but none so young and not so many so smart, and never one so attractive," said Mr Wooley in his opening.
He also focused much of the interview on Ms Ardern's pregnancy.
"One really important political question that I want to ask you, and that is what exactly is the date that the baby's due?" he asked her and her partner, Clarke Gayford.
"It's interesting how much people have been counting back to the conception date," he then added.
Ms Ardern responded by saying the baby was conceived when the "election was over", but that they did not "need to get into those details".
In another clip taken from the same interview, Mr Wooley was also seen expressing surprise when Mr Gayford - who will be the full-time carer for the baby - said he did the laundry at home.
The interview was slammed by many on social media, with some calling it "creepy".
The 60 Minutes Jacinda Adern puff piece is just ick. Charles Wooley has already called her the most attractive PM he's ever met and asked about when she had sex to fall pregnant. pic.twitter.com/JKzhFfm74y

— Ryan Sheales (@RyanSheales) February 25, 2018
Charles Woolley is bloody painful. Was interested in the Jacinda Ardern interview on 60 Minutes but he made it cringeworthy.

— Reg Roberts (@RugbyReg) February 25, 2018
Why did 60 Minutes send its creepiest interviewer to do its segment on Jacinda Ardern? Eww!

— Emms 💚 (@LordeEmms) February 25, 2018
Australians have also been apologising for Mr Wooley.
Dear New Zealand 🇳🇿, our best mate, you know how everyone has a creepy Uncle you need to avoid at Xmas parties? Sorry we got him to interview your PM. Please tell @jacindaardern we reckon it was gross.

Love, Australia 🇦🇺 https://t.co/B9Bz3AQRsk

— Belinda Barnet (@manjusrii) February 26, 2018
PM @jacindaardern , on behalf of those Australians who aren't sexist pigs, I sincerely apologise for trash TV #60Mins patronising 'interview'. We're a bit behind over here. Look at how the Liberal Party & most media treated our 1st & only female PM. Truly ashamed. #auspol

— waywardbreed (@waywardbreed) February 26, 2018
But when asked about the furore in a press conference on Monday, Ms Ardern said she was "not fazed".
The question about when her child was conceived should be "put under the heading of 'too much information'," she said.
60 Minutes later defended its coverage in a statement sent to New Zealand media.
"60 Minutes reporters have always asked the tough questions which the public has been wanting to hear, while also showing the human side of these individuals that we rarely get to see," said a spokesperson in the statement.
Mr Wooley "came away from his interview with Jacinda Ardern in awe of her poise, intelligence and everyday charm, which was reflected in the full story", the spokesperson said.
60 Minutes reporter Mr Wooley similarly defended the interview, calling the social media backlash "Orwellian".
"I think you got to be so careful with newspeak and thought crime and everything else, we suffer the same thing in Australia," Mr Wooley told radio network NewsTalk ZB.
He said he did not regret the interview but added that his wife had accused him of "gushing".
'I am not the first woman to multi-task'
"I am not the first woman to multi-task. I am not the first woman to work and have a baby - there are many women who have done this before," she said at the time.
Baby questions have dogged her throughout her political leadership.
On her first day as opposition leader, she was controversially asked in an interview whether she had made "a choice between having babies and having a career".
Ms Ardern replied that such a question was "totally unacceptable in 2017".
"It is a woman's decision about when they choose to have children and it should not predetermine whether or not they are given a job or have job opportunities," she said.
You might also be interested in