Rohingya crisis: Military build-up on Myanmar border with Bangladesh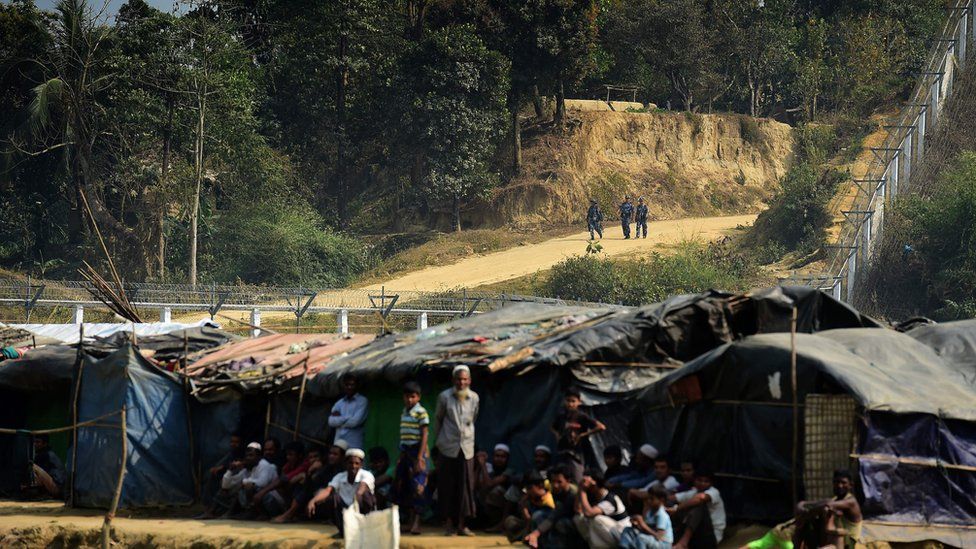 Bangladesh has told neighbouring Myanmar to pull back its troops from their shared border, where thousands of Rohingya refugees have sheltered.
More than 5,000 people have been living on a narrow strip of land between the two countries since some 700,000 Rohingya fled the burning of their homes in Myanmar last year.
On Thursday, a large number of Myanmar soldiers appeared at the border fence.
Bangladesh has summoned the Myanmar ambassador over the situation.
Rohingya refugees fled their homes in Rakhine late last year, amid what the Myanmar government said was a military crackdown on militant groups. But reports quickly emerged of widespread human rights violations, killings, and the burning of civilian villages.
The United Nations has labelled Myanmar's actions as "ethnic cleansing" and said it cannot rule out considering it an act of genocide. In its wake, hundreds of thousands of Rohingya fled across the border to Bangladesh.
More than 5,000, however, set up camp on the narrow strip of land just beyond the Myanmar border fence. The area is formally still within the country's territory, but is widely referred to as a "no man's land".
On Thursday, differing reports said 100-200 soldiers had appeared near the makeshift border camp. Machine guns and mortars were also spotted, border guards told reporters.
One community leader among the Rohingya, Dil Mohammed, told Reuters news agency that Myanmar officials were telling the camp's occupants to leave the area over loudspeakers.
It follows weeks of stepped-up patrols along the border fence.
"They brought at least 14 ladders and intimidated us by trying to climb over the fences and come to our camp to evict us," Mohammad Arif told AFP.
The news agency also quoted Bangladesh border guards as saying they had requested a meeting with their counterparts, but were told officers were "away or busy elsewhere".
Bangladesh's acting foreign secretary summoned Myanmar's ambassador, telling him that the "military build up will create confusion within Bangladesh and escalate tensions on the border".
He also instructed him to tell Myanmar's authorities to pull back both their forces and "military assets" from the border.
Separately, Bangladesh border official Brigadier General Mujibur Rahman told Reuters that the troop movements violated international norms.
"We are sending them a protest note... they have removed heavy weapons, such as machine guns and mortars, from the area after our verbal protests."
In recent days, Myanmar officials have said Rohingya militants it blames for attacks on police last August - which sparked the current crisis - were hiding within the border camp.
Bangladesh has been negotiating a repatriation deal for the thousands of Rohingya refugees it is housing. The situation is complicated by concerns from the United Nations and human rights agencies over the safety and security of those who may choose to return.
United Nations staff have not been allowed access to the area to carry out an investigation.