Shinzo Abe: N Korea and a school scandal heap pressure on Japan's PM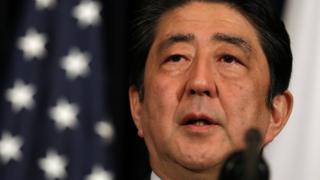 It is no exaggeration to say that the bolt out of the blue commitment by US President Donald Trump to sit down for talks with North Korean leader Kim Jong-un has had a severe impact on Japan's government.
A carefully crafted, US-Japan co-ordinated strategy - of unremitting political and economic pressure on North Korea - has been a replaced by a new unilateral US policy of (albeit perhaps temporary) moderation.
The shift is informed by Mr Trump's confident optimism that he will be able to reach a deal to negotiate away the North's nuclear weapons and advanced missile programme.
But the unexpected talks will have an impact in Japan not unlike the July 1971 announcement by then President Richard Nixon that he planned to travel to Beijing to meet Chairman Mao Zedong.
At that time, Japan's leaders experienced the "nightmare" they had struggled to avoid for the best part of two decades.
In an instant, and with barely 20 minutes of advance notice, the Japanese government had been informed that the Cold War policy of "containment" of China - that it had loyally sought to adhere to at the prompting of successive US administrations since 1950 - had been unilaterally ditched.
Japan was left isolated and betrayed by its senior allied partner, creating a residue of distrust that rattled bilateral ties between Washington and Tokyo for years to come.
Abandoned or entrapped
For Japan's Prime Minister Shinzo Abe, Mr Trump's diplomatic handbrake turn on North Korea could not have come at a worse time.
Having rushed to Washington to be the first foreign leader to meet with the president-elect in November of 2016, and relying on careful diplomatic preparation to better understand and manage America's new, mercurial and self-regarding leader, Abe may be forgiven for confidently thinking that his successful Trump Tower visit had given him an advantage with the president.
This confidence has suddenly evaporated. The Abe administration now appears not only dismayed by the lack of consultation from their US partner, but also deeply alarmed by two potential scenarios.
Historically, Japan has worried about the twin danger of being either abandoned or entrapped by its US ally. These fears are now dominating Japan's anxious assessment of what may happen at the May summit between Mr Trump and North Korea's Kim Jong-un.
Fear number one is that a transactional Trump, intent on getting an agreement with Kim to succeed where his presidential predecessors have failed, and to deflect attention away from his domestic political troubles arising from the Robert Mueller investigation, will sell the US-Japan alliance short.
The worry for Japan is that the president, in order to meet the North Korean demand for a security guarantee, will agree either to a dramatic reduction of US forces from the region (some or all of the 28,500 troops in South Korea or the 50,000 or so troops in Japan) or focus exclusively on US strategic interests at the expense of alliance interests.
Mr Trump may confine himself to the long-range nuclear-armed missile challenge to the US, and he may be tempted to ignore or overlook the medium-range missile threat to Japan or other political concerns, including the unresolved fate of Japan's "abductees", citizens kidnapped from Japan by North Korean agents in the 1970s and 1980s.
Fear number two is that the May summit will fail to produce an agreement, and that a disgruntled Trump, having run out of diplomatic road, will feel that he has no choice but to order a military attack against the North.
War on the peninsula will then drag Japan, as America's ally, into a hugely costly and destructive war that will expose the country and its citizens to massive existential risk.
Trump's latest decision to replace the diplomacy-favouring Secretary of State Rex Tillerson with a more hawkish Mike Pompeo, who backs using military force against the North, has only heightened these fears of alliance entrapment.
Scandal back home
Compounding this strategic, international crisis, is Mr Abe's exposure on the home front.
A long-simmering corruption and influence-peddling scandal dating from 2017 has suddenly re-surfaced, precisely at the same time as the Korea crisis.
The scandal risks implicating the prime minister's wife Akie Abe. She allegedly helped lobby for a deal allowing a controversial Osaka based school, Moritomo Gakuen, to buy state-owned land at massively reduced prices (86% below market value) on which to build a primary school.
Reports in early March by Japan's progressive daily newspaper, Asahi Shimbun, suggest that officials from Japan's finance ministry, which was responsible for managing the land-deal, had selectively and deliberately removed from a number of documents submitted to Japan's parliament critical details highlighting the role of Mrs Abe and some of the questionable circumstances surrounding the land deal.
The scandal has already had a number of dramatic effects. On 9 March a local official from the Osaka finance bureau killed himself, prompting suggestions that it was a result of the scandal.
At the national level, the controversy has created sharp tensions between the cabinet and the parliament, with leading opposition politicians arguing that the government has actively sought to deceive the legislature - a grave charge in a political system that places a premium on parliamentary scrutiny.
In response, a senior bureaucrat, Nobuhisa Sagawa, the former head of the national tax agency and previously in charge of the finance ministry section responsible for handling the land-sale, has been forced to resign. His immediate boss, Taro Aso - the finance minister and deputy prime minister - is also under pressure to resign, not only from opposition politicians but even from some of his colleagues in the governing Liberal Democratic Party (LDP).
Mounting pressure
The worry for Mr Abe is that the scandal will lead to demands for his resignation and potentially might even bring down his cabinet.
When the scandal first emerged in February of 2017, he publicly stated he would resign if it was revealed that either he or his wife had influenced the land-sale. The latest revelations make it harder for him to dispel the impression that there may have been some undue influence, if only implicitly.
For now, Mr Aso, the finance minister, has made it clear that he has no intention to go, and Abe has defended keeping him in post in order to get to the bottom of the procedural irregularities in the finance ministry.
However, there are two more compelling reasons for the prime minister to protect his colleague:
First, so long as Mr Aso stays in post, he acts as a political human shield for the prime minister, insulating him from direct criticism.
Second, Mr Aso leads the second largest of the LDP's political factions and as such can deliver a critical number of party votes for the forthcoming LDP presidential election in September of this year.
Mr Abe hopes to win the election, securing in the process a third term as party leader and a minimum of three more years as prime minister.
It is too early to tell how much damage this second crisis will inflict on Mr Abe. The latest opinion polls reveal a 6% drop in the popularity of the government from 54% to 48%.
While bad news for the prime minister, the drop has not been as fast or as pronounced as that which took place in 2017 when the scandal first broke. Moreover, there is little evidence, so far, that the controversy is boosting the position of the opposition parties, which remain far less popular than the LDP.
Paradoxically, the lifeline for the prime minister may be the North Korean crisis. The Japanese public is made increasingly anxious by developments on the peninsula and remains eager to see the May summit talks succeed. From the perspective of Japan's voters, success here most likely requires a stable and experienced government at the helm in Tokyo.
Good governance, good relationships (whether personal or national) and effective alliances depend on trust. It remains to be seen whether trust can be restored and maintained between both the governments of the United States and Japan and between Mr Abe and the Japanese electorate.
Dr John Nilsson-Wright is Senior Lecturer in Japanese Politics and International Relations, University of Cambridge, and Senior Fellow for Northeast Asia, in the Asia-Pacific Programme at Chatham House.