Science and tech community mourns Stephen Hawking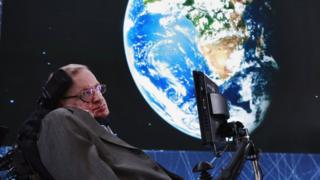 Tributes from around the scientific community are pouring in for prominent physicist Stephen Hawking, who died early on Wednesday aged 76.
The messages highlight his breakthrough research as well as his personality and inspiration to millions.
One of the world's best-loved scientists, he was renowned for his work on black holes and relativity.
He wrote hugely popular science books, and even broke into a pop culture.
Suffering from a rare form of motor neurone disease he spent most of his life in a wheelchair and was largely unable to speak except through a voice synthesiser.
US TV scientist Neil DeGrasse Tyson said Hawking's death left a huge vacuum.
Caltech physicist John Preskill said Hawking's work inspired millions of young scientists to try and follow in his footsteps.
"I'll remember the sharp wit and twinkling eyes; he never took himself too seriously. His friends will miss him terribly," he wrote on Twitter.
US space agency Nasa described the Briton as an ambassador of science, remembering his work with the astronauts on the international space station.
Accolades for Mr Hawking also came in from the tech community with Google CEO Sundar Pichai writing that the world had "lost a beautiful mind and a brilliant scientist."
Apple co-founder Steve Wozniak told BBC News: "Stephen Hawking's integrity and scientific dedication place him above pure brilliance."
"We lost a great one today," Microsoft CEO Satya Nadella said. "Stephen Hawking will be remembered for his incredible contributions to science - making complex theories and concepts more accessible to the masses."
"He'll also be remembered for his spirit and unbounded pursuit to gain a complete understanding of the universe, despite the obstacles he faced. May he rest peacefully as his legacy and brilliance live on."
Tim Berners-Lee, widely regarded as the inventor of the World Wide Web, tweeted the world had "lost a colossal mind and a wonderful spirit".
US-Canadian theoretical physicist Lawrence Krauss described Mr Hawking as bravely fighting and taming the cosmos for 76 years.
Russian billionaire Yuri Milner, whose Breakthrough Foundation had won Hawking as a supporter for plans on interstellar travel, told the BBC that the physicist's contributions to science "will not be forgotten".
"When future historians consider who were the outstanding people of our age, they will think of Professor Hawking," he said in a statement to the BBC. "As both scientist and human being, he was of the very highest stature."
Yangyang Cheng, a particle physicist at Cornell University, also highlighted the fact that the British physicist had inspired her when she grew up in China.
A similar notion was tweeted by James Davenport, an astrophysics post-doctoral student at Western Washington University.
Robert McNees, a physics professor at Loyola University Chicago, expressed the same feeling.
"I idolised Hawking when I was a kid. Once, when I was a post-doc, I got to hang out with him for an evening. Our group went for dinner and drinks, then karaoke. He was funny, lively, and kind. I called my parents at 3am to tell them. It was my 'I made it' moment."
Mr Hawking's unique fame far beyond the science community was highlighted by Caltech physicist Sean Carroll.