Japan Nobel winner Ei-ichi Negishi's wife found dead in US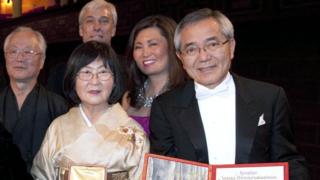 Police in the US are investigating the death of the wife of a Japanese Nobel Prize-winning chemist in Illinois.
The couple had been reported missing from their home in the state of Indiana on Monday.
Ei-ichi Negishi was found by police wandering along a road near Rockford early on Tuesday morning and was taken to hospital.
The body of 80-year-old Sumire Negishi was found along with the couple's car at a landfill site shortly after.
Police have said they do not suspect foul play.
The couple had last been seen at their West Lafayette home, near Purdue University where Mr Negishi is a chemistry professor.
The Negishi family told local news channel WTHR that they believed the couple had been trying to find their way to the airport and got "disoriented" along the way.
The Orchard Hills Landfill, where she was found, is about 8 miles (12km) from Chicago Rockford International Airport.
The family said Mrs Negishi had been "near the end of her battle with Parkinson's [disease]".
Mr Negishi, a Japanese national who lived in the US, was awarded the Nobel Prize for chemistry in 2010.