Everest clean-up campaign aims to airlift 100 tonnes of waste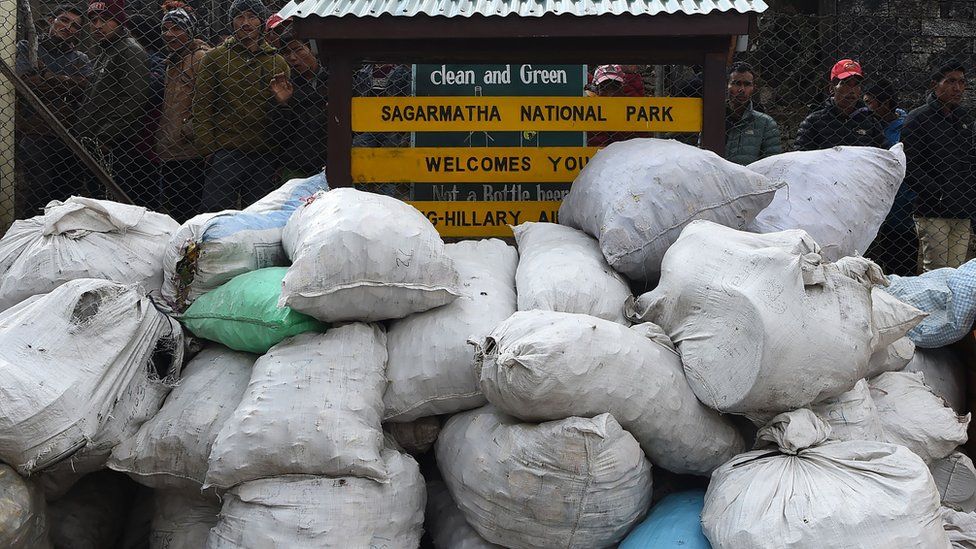 A clean-up campaign has begun at Mount Everest, aiming to airlift 100 tonnes of rubbish left behind by tourists and climbers of the world's highest mountain.
On its first day, 1,200kg (2,600lbs) of waste was flown from Lukla airport to Kathmandu for recycling.
Mountaineers are required to bring back whatever waste they generate on their climb.
But every year, local guides gather hundreds of kilograms of rubbish.
This year's clean-up campaign is focused on items that could be recycled in the capital city, with privately-owned Yeti airlines helping to transport. They will continue to ship piles of recyclable rubbish throughout the year.
Most of the waste left on the mountain is empty beer bottles and cans, empty food tins, and discarded mountaineering and trekking equipment.
That can include oxygen bottles, which are essential for climbing at the highest altitudes.
Clean-up programmes have been run by local guides, known as Sherpas, for decades, but are now coordinated by the Sagarmatha Pollution Control Committee (SPCC), named after the Nepalese name for the mountain.
Sherpas are still the ones who collect the high-altitude waste.
According to SPCC, over 100,000 people visited the region last year. About 40,000 were mountaineers or trekkers.
Since then, the SPCC has built portable toilets around the key mountain camps.