Crossing Divides: Thai orchestra fights bloodshed with music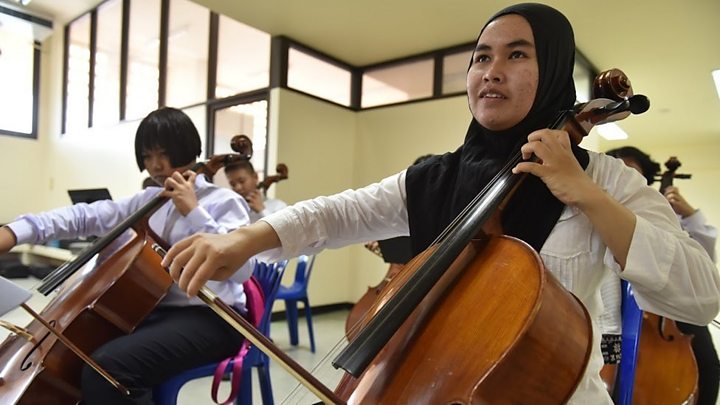 The 14-year conflict between Muslim insurgents and authorities in Thailand's three southernmost provinces has claimed more than 7,000 lives. But can music help bridge the sectarian divide?
Watching news coverage of the repeated killings in southern Thailand led one city mayor to a depressing conclusion.
"Every time a situation arises, there are two mindsets: if you're a Buddhist you will feel satisfied when a Muslim dies, and if you're a Muslim it's the other way around," says Pongsak Yingchoncharoen.
He was elected mayor of Yala in 2003, a year before tensions bubbled over in the three southern provinces that are home to two million people. Members of the region's Muslim majority burned down government schools they saw as symbols of an oppressive Buddhist Bangkok administration.
Attempts to tackle the violence aggravated the situation and Pongsak grew concerned about the effects on youth in his city.
"Each day children see the images of people being killed on the side of the streets," Pongsak, a Buddhist, tells BBC Thai at his office. Across the wider Yala province, there were more than 5,000 violent incidents including shootings and bombings from 2004 to 2016, according to monitors from Deep South Watch.
"We can sense the hatred between Buddhists and Muslims, and that kind of feeling is dangerous if children grow up with it," Pongsak adds.
With peace talks yielding little progress, in 2007 Pongsak hit upon an unusual antidote to the death and destruction. He set up a youth orchestra, made up of children from both sides of the sectarian divide.
Investing public funds in music was controversial when people were most concerned about security. It meant sending teachers for training in Bangkok and the first instruments were the cheapest available.
But 120 students applied to join. The first performance was held on the birthday of the then King Bhumibol Adulyadej in December 2007, and thousands of people filled the hall to watch.
"First I wasn't confident about the performance, but when the royal anthem was played as the first song, I saw the confidence in the children. Yala people saw it too. It was a phenomenon that the people of Yala had never before experienced. I had tears in my eyes."
Today some 150 young people play regularly in the orchestra - and Pongsak says 650 have already graduated from the ensemble.
Among the players is trumpeter Kasidach Chatree. He recalls one day, as a young boy, when he heard what he thought were firecrackers outside his house, in an upmarket area of central Yala.
It turned out to be an attack that left his aunt, who had been cycling to deliver alms to local monks, with a head injury from flying shrapnel.
"First I was afraid, and didn't leave the house often. But then I became used to [the attacks]," says Kasidach, now 18. "Sometimes I'm depressed and sad. I don't know who does these things and why."
But he says the orchestra has given him hope, and changed his outlook.
"Talking to Muslims and learning the words in their language and their food - that's a new experience for me," he says.
One of his Muslim colleagues is 18-year-old cellist Awatif Hayiwani.
"It feels very good whenever I play music. Especially when we play together, it's like creating harmony within the orchestra and everyone has to listen each other," she said.
Awatif follows a long list of cello players on Instagram, including her idol - French-born American cellist Yo-Yo Ma. But when she first brought up her musical dream, her mother wasn't convinced.
"She explained that our religion prohibits the playing of musical instruments and listening to music," recalls Awatif.
The teenager eventually talked her round but not many of Awatif's friends have been as successful at convincing their families to let them play alongside non-Muslims. About three-quarters of the orchestra's players are Buddhist, and almost all are young men.
For some, the suggestion that music is against Islamic teachings is open to interpretation.
Hadee Hamidong, a Muslim, has organised acoustic concerts in neighbouring Pattani province, bringing Muslim and Buddhist together in a public space. Using social media to publicise the events, he drew in crowds of 500 music fans from both religions.
"When we speak of music, the first thing we have in mind is a man and woman falling in love. We think of romance and flirting," Hadee says.
"But music is a cultural power. It can be about hard issues - and so we try to choose songs that are not related to teenage love. Art and music are tools to bring together people to talk and exchange ideas," he says.
Yala youth orchestra has toured widely, and the model has been replicated in Bangkok, and regions in the north and south. Despite this, the bloodshed in Yala province continues. In January, three civilians died and more than 30 were wounded in a deadly motorcycle bombing at a market in Yala city.
Mathus Anuvatudom, an academic at King Prajadhipok's Institute's Office of Peace and Governance, points out that classical music doesn't have a mass appeal, which is one of the reasons why the orchestra isn't as successful as it might be.
However, he says it succeeds as a symbol of harmony, adding: "People see that they [Muslims and Buddhists] are able to play together."
Conductor Weerasak Aksornteang, who has led the orchestra since its inception, imagines a future where music can create a better society.
"If we do this for another 10 to 20 years, let's say around 50% come back to work in Yala. And if these 500 people who used to play music together, who went through good experiences together, work in different organisations, I think that will make the city a much better place to live in," he says.
Photographs by Panumas Sanguanwong of BBC Thai
---
Crossing Divides
Crossing Divides: a week of stories about people creating connections in a polarised world.
---
Do you have experience of building bridges within divided communities? Share them with us by emailing haveyoursay@bbc.co.uk.
You can also contact us in the following ways:
Tweet: #CrossingDivides
WhatsApp: +44 7555 173285
Text an SMS or MMS to 61124 (UK) or +44 7624 800 100 (international)
Please read our terms & conditions