Why Pakistan TV host Amir Liaquat Hussain joined Imran Khan's party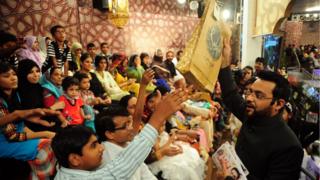 A Pakistani television anchor previously accused of hate speech has joined cricketer-turned-opposition politician Imran Khan's Pakistan Tehrik-e-Insaf (PTI) party.
An eloquent speaker with a penchant for religious sermons and rather rash thoughts, Dr Hussain is well known - and no stranger to controversy.
Why is he a contentious character?
Dr Hussain was a member of parliament from 2002 until 2008, when he was expelled by the MQM party.
As a politician, he was involved in several rows. On one occasion, he was held hostage by students angry at his work criticising suicide bombings.
On another occasion, he declared British-Indian novelist Salman Rushdi as "worthy of death" - comments that eventually forced him to resign from parliament.
Pakistan bans TV host over 'hate speech'
Babies given away on Pakistan show
The rise of Pakistan's televangelists
As a journalist, a religious ideologue and a showman, Dr Hussain has had stints at nearly all the major media houses in Pakistan.
His TV shows are elaborately scripted, preach a certain brand of religion, and include quiz shows and product giveaways.
Dr Hussain has gifted cars, motorbikes and household electronics on his shows - and on one occasion, even abandoned babies.
On one show during Ramadan, he brought two abandoned infants from a welfare organisation onto his live show, where they were adopted by two couples.
Critics accused him of using the babies to boost ratings, and argued that their privacy had been breached.
In 2016, the Pakistan Electronic Media Regulatory Authority (Pemra) banned his programme for three days for alleged lewd content over some of his hand gestures and double entendres.
He was severely reprimanded by human rights groups when he declared Ahmadi Muslims as "non-Muslims and worthy of death" in one of his programmes. Soon afterwards two Ahmadis were gunned down in Sindh, leading some to suspect the killers were inspired by Dr Hussain's rhetoric.
Pemra also banned his show on Bol TV after he levelled allegations of blasphemy against various people including human rights activists, journalists and bloggers. Pemra received complaints that he was endangering the lives of those he named.
Is he popular?
Liberal-minded viewers in Pakistan tend not to take Dr Hussain seriously - but he commands considerable influence with some conservative viewers, including housewives who watch his shows.
His popularity has turned him into one of the most highly paid TV show hosts in Pakistan. He has signed lucrative contracts just to host his show for a month during Ramadan, the fasting month when viewership of such programmes spikes.
He also has influence with certain political groups in Pakistan's polarised political environment - especially as a harsh critic of former PM Nawaz Sharif.
His fans are mostly those opposed to Mr Sharif's PML-N and Asif Zardari's PPP party, and mostly comprise followers of Imran Khan's PTI.
Why is he re-joining politics now?
At a joint press conference with Mr Khan in Karachi on Monday, Dr Amir Liaquat Hussain described the PTI as "the last stop" in his career.
Pakistan will have general elections in July.
As a resident of Karachi, Dr Hussain will be looking for a constituency in his native city where the military has already broken the strangle hold of MQM and where constituencies are up for grabs.
The PTI party, which is seen as close to the military, is keen to capitalise on this. And in Dr Hussain, the PTI will have a famous, local candidate who has successfully delved in the city's politics before.
But this is no guarantee of success, and some observers believe the PTI may struggle in the forthcoming general elections due to a surge in support for Mr Sharif's party.
What's clear is that Pakistani politics is notoriously unpredictable - and the country hasn't heard the last from the outspoken TV host.
Reporting by BBC Urdu's Riaz Sohail and the BBC's M Ilyas Khan.