Kabul Sakhi shrine: 'Dozens dead' in New Year attack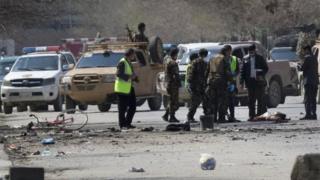 At least 31 people have been killed and 65 wounded in a suspected suicide bomb attack near a shrine in the Afghan capital Kabul, officials say.
Initial reports suggest the bomber attacked a crowd of hundreds of people who had gathered to celebrate the start of Nowruz, the New Year festival.
Many in the crowd were minority Shia. Reports say the number killed may rise.
The Islamic State (IS) group claimed the bombing. Sectarian attacks on Shias have increased in recent years.
Many have been attributed to IS.
An interior ministry spokesman told the BBC a suicide attacker approached the Sakhi shrine on foot and detonated his explosives when identified by police.
The blast occurred outside Ali Abad hospital, close to Kabul University in the west of the city, he said.
Eyewitnesses told BBC Afghan that many young people who were dancing, singing and celebrating were among the casualties.
The shrine has been attacked before. At least 14 people were killed in October 2016 as Shia Muslims prepared for a religious day of mourning during the festival of Ashura. A bombing in 2011 killed at least 59.
One of the city's largest shrines, Sakhi is revered by many Afghan communities but especially by the Shia minority. It is a focus of New Year prayers in Kabul every year.
Shia Muslims make up about 15% of Afghanistan's population, and many of them come from the Hazara ethnic group.
Scores of people were killed in a wave of Taliban and IS attacks on Kabul in January, underlining the city's fragile security.
One attack, claimed by the Taliban, was the deadliest for months. An ambulance packed with explosives killed more than 100 people in the Chicken Street shopping area.
Both the Taliban and IS seem to be focusing their energies on carrying out attacks in Kabul, correspondents say.
US and Afghan officials say this is in response to air strikes and other security operations which have pushed the militants back in some areas.
But it's also possible the militants see attacks on the capital as a more effective way of undermining confidence in the government than trying to capture and retain territory in rural areas.
How strong are the militants?
The Taliban control large swathes of Afghanistan - and IS militants hold sway in a much smaller number of districts.
However, both groups have demonstrated their ability to hit targets across the country.
They have often come into conflict with each other, too.