South China Sea: Vietnam 'scraps new oil project'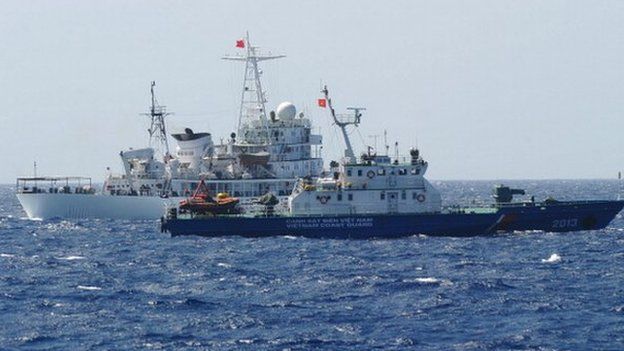 Vietnam has cancelled a major oil project in the South China Sea for the second time in a year, in the wake of Chinese pressure, the BBC has learned.
State-owned PetroVietnam ordered Spanish energy firm Repsol to suspend a project off the south-east coast, a well-placed industry source said.
It means Repsol and partners could lose up to $200m of investment already made.
The news is unexpected as final preparations for commercial drilling were under way.
China is likely to regard this move as a significant victory. The Vietnamese decision seems to demonstrate that the recent show of force in the South China Sea by the United States has not changed Vietnam's strategic calculations.
Vietnam has been seeking to develop the so-called Red Emperor oil and gas discovery (known in Vietnamese as Ca Rong Do) since 2009.
As part of the "Red Emperor" project, a rig, the Ensco 8504, was scheduled to depart from Singapore for the drill site on Thursday.
The site is in an area of the South China Sea designated Block 07/03 by Vietnam and Repsol's local subsidiary had previously estimated that it contains 45 million barrels of oil and 172 billion cubic feet of gas.
Moreover, Repsol had commissioned the American engineering company Keppel FloaTEC to build a production platform to service the site at a likely cost of several tens of millions of dollars.
Overall, according to the source, Repsol and its partners in the project (Mubadala Petroleum and PetroVietnam) are likely to be around $200m out of pocket. Repsol and related companies have not yet responded to questions from the BBC about the latest development.
This is the second time that Repsol has been ordered to suspend drilling. This area is adjacent to Block 136/03 where Repsol was ordered by the Vietnamese government to halt its development drilling in July last year.
That decision was reportedly taken after China threatened to attack Vietnamese outposts in a nearby piece of shallow sea known as the Vanguard Bank.
Reports from July 2017 suggested that it was the head of the Communist Party of Vietnam, General Secretary Nguyen Phu Trong, and the Minister of Defence, Gen Ngo Xuan Lich, who insisted that the drilling in Block 136/03 be stopped in order to avoid confrontation with China.
It is likely that the same dynamics were at work in the current decision.
There had been some thoughts in the region that Donald Trump's more muscular approach to China and the US Navy's more assertive posture in the South China Sea would generate political space for South East Asian governments to stand up more effectively for their maritime rights.
President Trump's visit to Vietnam late last year and his subsequent conversations with the Vietnamese leadership seemed to suggest that the two governments were working together to counteract pressure from China.
Other countries in the region are also keen to develop their offshore oil and gas reserves.
Malaysia, Brunei and the Philippines are all coming under pressure from China to concede "joint development" in areas where the UN Convention on the Law of the Sea (UNCLOS) gives them sole rights. So far all the South East Asian states have resisted the pressure.
Vietnam has chosen to try to develop its fields alone and the result has been military threats from China and, now, a second climb-down, raising questions over Vietnam's offshore potential.
Speculation will turn to the fate of Exxon Mobil's Blue Whale gas project off central Vietnam. However, that is closer to land and so may not incur China's ire.