Marvia Malik - Pakistan TV airs first transgender anchor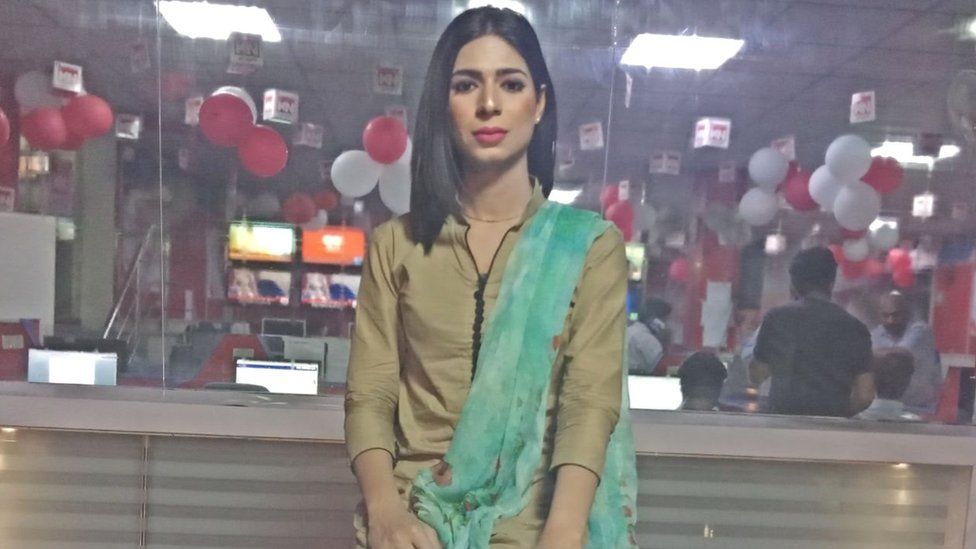 A Pakistani news channel has hired the country's first transgender TV newsreader.
Marvia Malik, a journalism graduate who has also worked as a model, told the BBC she was moved to tears when she was offered the job.
She anchored her first show on private broadcaster Kohenoor on Friday, after three months of training.
Transgender people face discrimination in Pakistan and many struggle to find employment.
Some are forced into begging, dancing or prostitution to earn money.
Ms Malik told the BBC she had to stop herself from screaming with joy when she learned she had got the job.
"The dream that I saw for myself, I was able to climb on the first stair to achieving it," she said.
She said she hoped her work would help improve the lives of Pakistan's transgender community.
"Our community should be treated equally and there must not be any gender discrimination. We should be given equal rights and be considered ordinary citizens, instead of third-gender."
She added: "My family knows I have modelled and they know that I work as a newscaster. It's the age of social media and there's nothing that my family doesn't know. But they have still disowned me."
Earlier this month, Pakistan's Senate voted to support a bill protecting the rights of transgender people, and allowing them to determine their own gender identity.
In June 2016, a 23-year-old transgender activist died after delays in receiving medical treatment.
Alisha, who was shot eight times, was in critical condition when admitted to hospital but staff could not decide whether to put her in a male or female ward, according to her friends.