Will Netflix's Amo be the Philippine Narcos?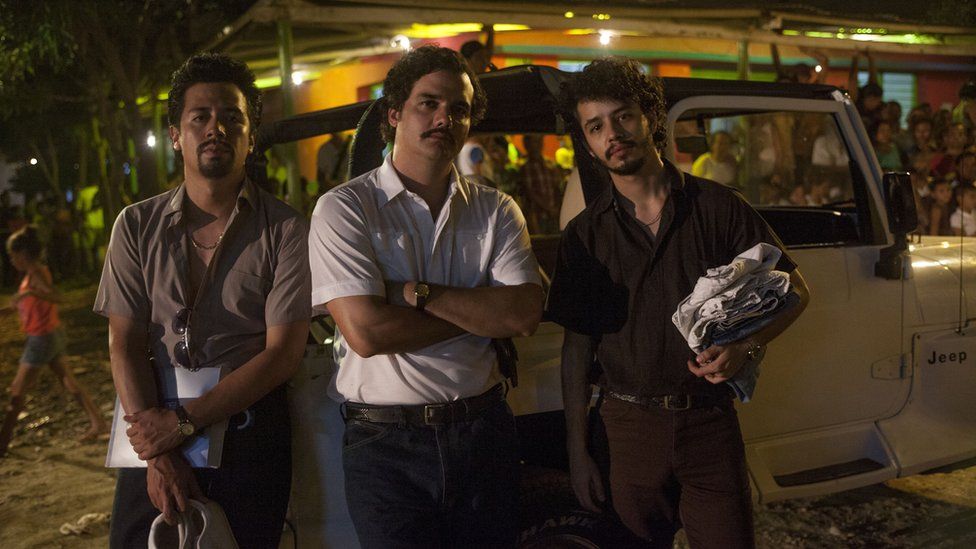 Allegations of historical inaccuracy, character stereotypes and the glamorisation of a drug-fuelled past have long plagued the critically-acclaimed Netflix hit series Narcos in Colombia.
And in early April, the global streaming giant will release another drug crime drama, this time from the Philippines.
Set against the backdrop of President Rodrigo Duterte's ongoing drug war, Amo - produced in the Philippines and directed by Filipino Brillante Mendoza - tells the story of a troubled teenager named Joseph, who gets pulled into Manila's underground world.
Traffickers and dangerous drug lords, crooked cops and corrupt government officials all feature prominently in the 12-episode series.
Produced by commercial broadcast network TV5, the series will be the first Filipino Netflix Original to be screened globally, starting 9 April.
Netflix's vice-president of content acquisition Robert Roy told the BBC it was a "bold and suspenseful show that has the potential of capturing thrill-seeking audiences worldwide".
But while there's some local pride in a potentially breakthrough Philippine show, there's also concern about the message it will send, not least because Brillante Mendoza is an open supporter of President Duterte.
Since Mr Duterte launched an all-out campaign to stamp out drugs, rights groups estimate that more than 12,000 people have died.
Many were shot without trial by police or vigilantes, their bodies left out in the open.
Mendoza denied his programme was Duterte propaganda.
"As a filmmaker stepping into this project, I want to tell truthful stories. I don't care about politics," Mr Mendoza told BBC News in Manila.
He said he didn't know whether the president had seen the series but that his representatives "liked it".
"My work speaks for itself and people have to watch Amo first. Just because I did a movie about illegal drugs, people are starting to accuse me of doing a propaganda film.
His 2016 gritty tale Ma Rosa chronicled the struggles of a mother in Manila forced to sell drugs in order to make ends meet.
"There are a lot of killings [in Amo]," he said. "I will show both sides of the coin, not just the side of the government but also the side of the victims and the police. There is a lot of corruption among them and they are partly to blame."
Critics say the story of the Philippine drug war will be a tricky one to tell.
In a statement to BBC News, Human Rights Watch (HRW) said the show appeared to gloss over "the vicious reality of Duterte's drug war".
"The Philippine government presents a whitewashed view of Rodrigo Duterte's drug war that paints a ludicrous veneer of civility and lawfulness. They will be well-pleased by the first two episodes of Amo," said deputy Asia director Phelim Kine.
"One of the most notably preposterous elements of the show is the significant number of suspected drug users and dealers actually surviving their encounters with the Philippine National Police, which is contrary to what has actually been occurring since the drug war began in 2016," he added.
"Any dramatic representation of the drug war should stick to the same facts that have motivated an ICC examination of the killings, rather than provide an airbrushed version which does detriment to the truth while benefiting the Duterte government's formidable propaganda machine."
Narcos, which debuted on Netflix in 2015, won critical acclaim for its documentary-style depiction of Colombian drug lords, with the earlier defining seasons centring on the story of Pablo Escobar.
But the reception in the country where the series was based has always proven to be mixed. Many native audiences questioned the show's authenticity and ridiculed its sympathetic narrative towards police officers and politicians.
In the case of Amo and the Philippines, could native Netflix subscribers view a show about their president's drug campaign as entertainment?
"I'd watch it for sure," said Isabel Sedano. "But I'd expect a strong story that won't shy away from showing the darker and grittier side of local law enforcement and crime.
"Fiction personalises issues and I feel that Amo will definitely help in making the drug war feel in even closer to home than it is."
Kimberly Koschinger, a 20-year-old student, said she would not want anything "sugar-coated".
"The Philippine drug war is anything but glamorous. I'm excited to see how it will be portrayed on Netflix," she said. "Our country may be known for beautiful beaches and friendly people but if we are going to delve deeper into the darker parts of our country, I'd want to see full disclosure of the subject."
Others like Gab Bonifacio expressed stronger sentiments. "What shows haven't glorified drugs? Just look at Breaking Bad and El Chapo.
"But do we really think the narrative in Amo will be anti-establishment? I'm sure the scriptwriters will justify all the killings just like they did in Narcos," he said.
"Brillante Mendoza did a lot of good stuff before but based on his work with President Duterte, it becomes overwhelmingly obvious that what the show will have is the farthest thing from an objective observer."
Additional reporting by Howard Johnson and Virma Simonette in Manila.