Thai women reject Songkran advice with 'don't tell me how to dress' campaign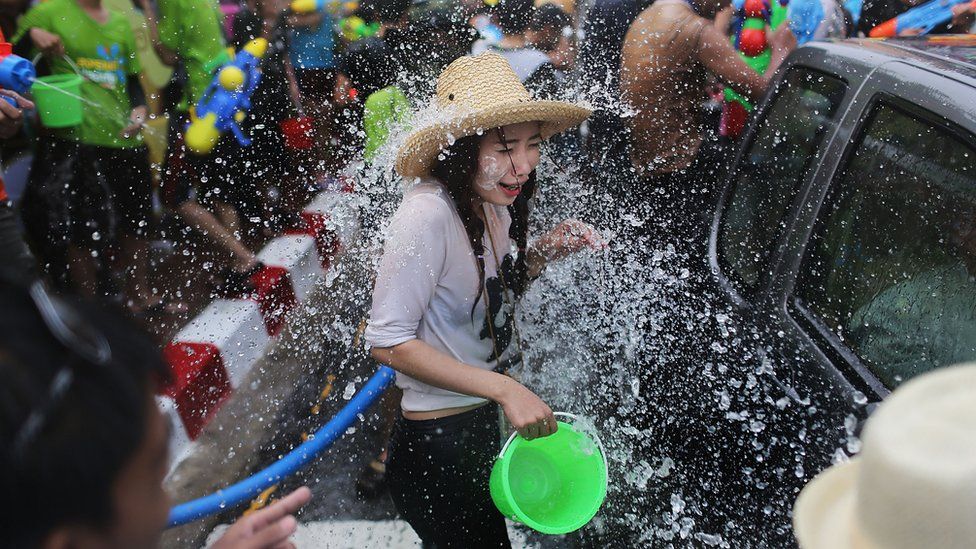 When a Thai government official told women to dress carefully to prevent harassment at the Songkran festival, it brought back painful memories for model Cindy Sirinya Bishop.
The Thai-American was just 17 when she was sexually harassed at the New Year celebrations. Dressed in a loose black t-shirt and three-quarter shorts, Ms Bishop found herself cornered by five men after she was separated from her friends.
"They surrounded me and tried touching me. I just ran and managed to get away from them. I haven't been to Songkran since," Ms Bishop told the BBC.
The three-day festival, which begins on Friday, is marked by the pouring of water to symbolise washing away misfortune from the previous year.
Last month Sutthipong Chulcharoen, Thailand's director general of the department of local administration, encouraged women to dress appropriately to prevent sex crimes during the water festival.
In response, Ms Bishop posted some clips on Instagram - along with the hashtags #DontTellMeHowToDress and #TellMenToRespect - and found plenty of people shared her dismay.
The 39-year-old said the hashtags were "targeting the idea that women are to blame for sexual harassment".
The BBC is not responsible for the content of external sites.
It wasn't long before other women began sharing their own stories.
"I was out with a friend and a female cousin [during Songkran], wearing a turtle-necked top, sweat pants and a sweater because I get cold easily," said one user on Twitter.
After losing track of her friends, she quickly found herself surrounded by a group of boys.
"They started to corner me... one of the guys grabbed my arm. I burst into tears. Thank god my cousin and friends came back so everything was alright. Since then, I've never gone out on Songkran."
Other Thai women began to share their experiences from everyday life that led to harassment.
"I once wore shorts to a 7-11 store near my house and a security guard looked at my legs and told his friend they were so appealing he wanted to touch them" said a Thai twitter user.
"I was in junior high then. After that I've never worn shorts outside my house. Why do only women have to protect themselves? I'm sick of this."
The act of washing away misfortune has seen Songkran evolve into one of the world's biggest water fights.
"Songkran is traditionally such a beautiful festival," said Ms Bishop. "[But] for a lot of Thai women, it has become dangerous because they know they are going to be taken advantage of".
Ms Bishop, who said she "never expected" her posts to attract so much attention, hopes to keep the conversation going beyond Songkran.
"A lot of times you hear people asking women what they were wearing when [sexual harassment occurs], not just during Songkran," said Ms Bishop.
"Across the globe, you have the feminist movement, the #MeToo movement, conversation on this topic is growing and in the same way, I hope in Thailand this movement continues beyond Songkran."