Japanese women ordered from sumo ring during first aid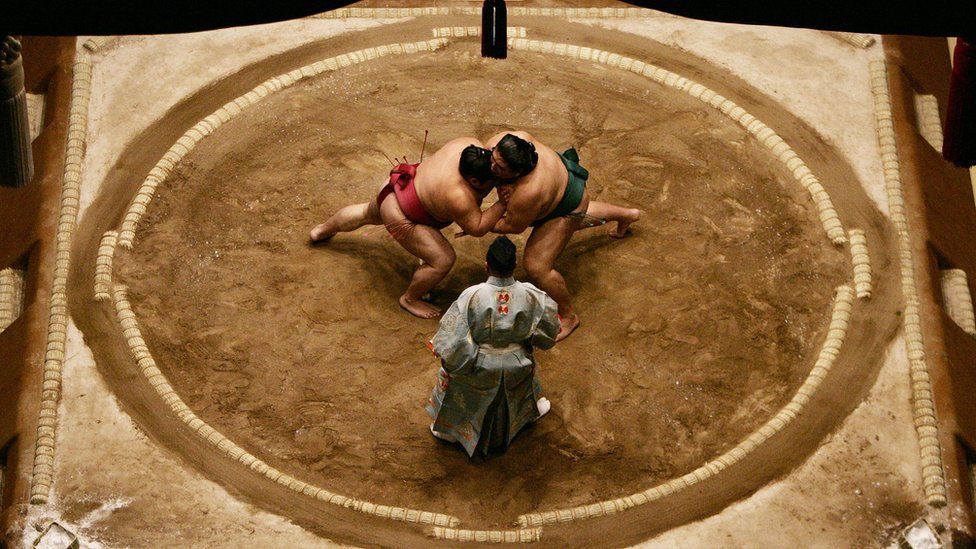 Women who rushed to perform first aid on a man who collapsed in a sumo ring in Japan were ordered by a referee to leave the ring, because females are banned from the space.
The ring is regarded as sacred and women, traditionally seen as "impure", are forbidden from entering.
They ran into the ring when Maizuru city mayor Ryozo Tatami collapsed while giving a speech.
The head of Japan's sumo association later apologised to the women.
"The announcement [to get off the stage] was made by a referee who was upset, but it was an inappropriate act in a situation that involves one's life," Nobuyoshi Hakkaku, the sumo association's chief said in a statement.
Local reports later emerged that spectators saw salt being thrown into the ring after the women had left.
In Japanese culture, salt is thrown into the sumo ring before a match to purify it. Some on social media said the gesture implied that the women had "dirtied" the ring.
"How rude is it that they threw salt to cleanse the ring after the women went in?" one Japanese Twitter user said.
"This is the response to someone who tried to save a life? I think we'd better sprinkle salt on the head of the sumo association," another added.
Mr Tatami was taken to hospital and is in a stable condition.
It is not the first time women entering the sumo ring has sparked controversy.
In 2000, the then governor of Osaka Fusae Ota asked the sumo association to allow her to enter the ring so she could present a trophy to the champion wrestler, but her request was rejected.