Nguyen Van Dai: Vietnam jails activist lawyer and five others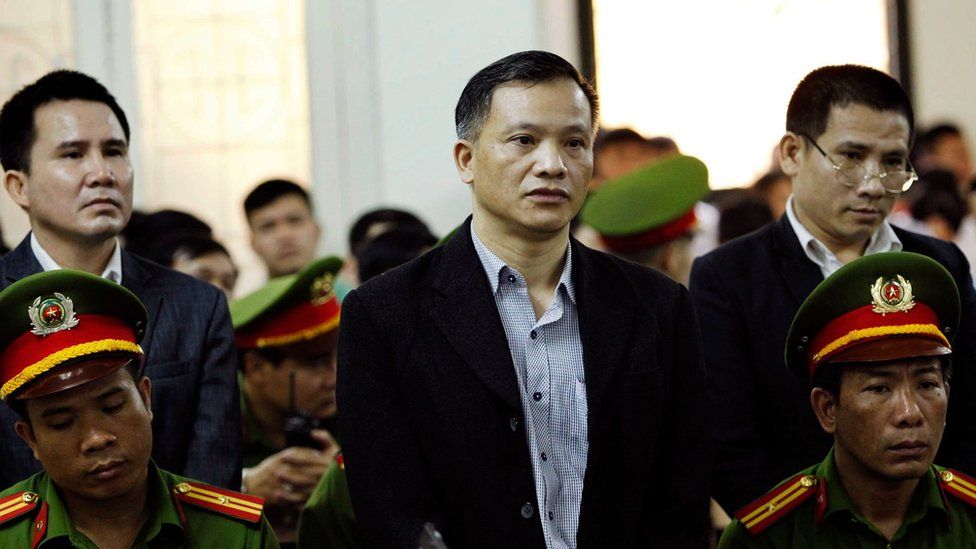 Six prominent Vietnamese activists have received heavy prison sentences on charges of "attempting to overthrow" the country's communist government.
Lawyer Nguyen Van Dai was sentenced to 15 years, while the other defendants were jailed for between seven and 12 years, relatives said on Thursday.
Several protesters who marched towards the court in Hanoi were taken away by plainclothes police.
Human rights groups have criticised the charges against the activists.
The convicted individuals are linked to the Brotherhood for Democracy, a self-described activist network.
In December 2015, having already served a previous four-year prison sentence, Nguyen Van Dai was arrested along with his assistant.
Although they were initially charged with producing anti-state propaganda, they were later accused of attempting to overthrow the state. The other four activists were arrested in July.
Nguyen Van Dai's wife told BBC Vietnamese of her "surprise and resentment" at the verdict and said her husband had defended himself "vigorously".
"Their defence in court show they were patriotic and peaceful. If the trial had lasted for another day, I think the prosecutors would be unable to keep on debating," Vu Minh Khanh said.
The court "had no evidence but they still tried to charge the defendants with crimes", she said.
"We were outraged. We the relatives cried after the trial ended and shouted it was an unfair trial."
The case has received widespread attention in Vietnam, which has strict censorship rules.
In a report released earlier this week, human rights campaign group Amnesty International described Hanoi as "one of South East Asia's most prolific jailers of peaceful activists", and said that at least 97 political prisoners were currently serving jail sentences across the country.