Bangladesh rejects Myanmar claim that Rohingya family was repatriated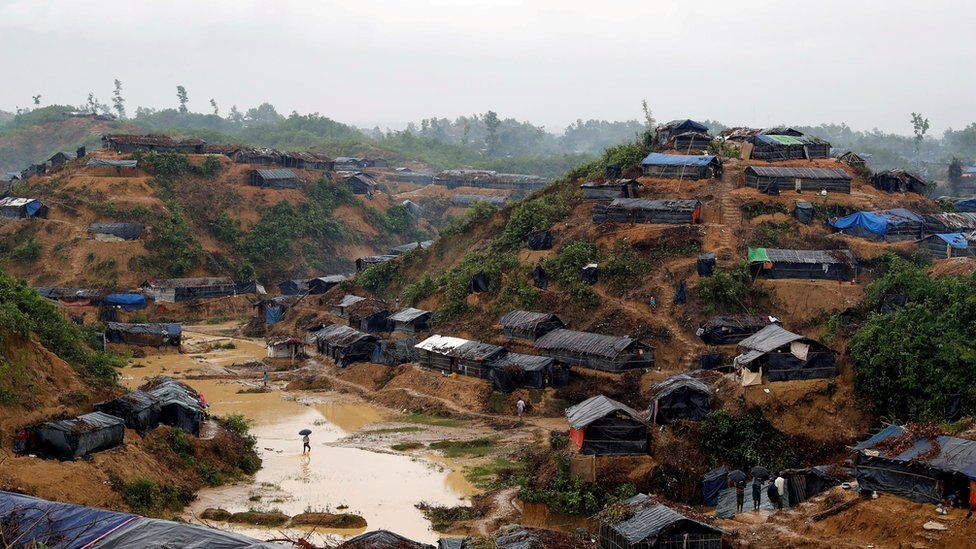 Bangladesh has rejected a claim by Myanmar that a family of five Rohingya refugees were "repatriated", calling the claim "a farce".
Some 700,000 people from the Rohingya minority group have left Myanmar for Bangladesh, fleeing military violence.
Myanmar hailed the first people to return, but Bangladesh said the family had technically never left Myanmar.
They never travelled beyond a border area between the countries, inside Myanmar, Bangladesh said.
"By no definition can this be called repatriation. No repatriation has taken place," Bangladesh's refugee commissioner, Abul Kalam, told the Associated Press.
"Bangladesh is no way part of it," he said.
Photographs released by Myanmar authorities on Saturday showed what it called a "Muslim" family (the state does not use the word Rohingya) receiving National Verification Cards. The card is a form of ID but it does not grant citizenship.
Asif Munier, an independent refugee expert who has worked on the Rohingya crisis for the United Nations, characterised the move as a PR stunt by Myanmar, calling it "very unfortunate and unexpected".
"Bangladesh's government and the international community must ask Myanmar for an explanation for this move," he told the AP.
The Rohingya are a mostly Muslim minority ethnic group in Myanmar. They are not recognised by the state, which denies them citizenship and considers them illegal immigrants from Bangladesh. Hundreds of thousands of them have fled to Bangladesh and to border areas, describing indiscriminate killings, rape, and the burning of villages by the Myanmar military.
The UN has accused Myanmar of ethnic cleansing, a charge it denies.
Announcing the return of the family of five on Saturday, Myanmar said they arrived at a "repatriation camp" and were provided with supplies and ID cards. If true, they would have been the first Rohingya refugees repatriated to Myanmar since the crisis began.
Bangladesh and Myanmar agreed in December to begin repatriations in January, and Bangladesh says it has so far given Myanmar a list of names for more than 8,000 refugees who have crossed the border.
"I hope Myanmar will take all the Rohingya families back within the shortest possible time," said Mr Khan.
But aid workers have expressed fears that the Rohingya will be forced to return to areas that are not safe. On Friday, the UN refugee agency and Bangladesh signed a memo calling for a "safe, voluntary and dignified" repatriation process.
"Refugees in Bangladesh have said that before considering return to Myanmar, they would need to see concrete progress in relation to their legal status and citizenship, security, and their ability to enjoy basic rights at home in Rakhine State," the UN agency said.