Thousands of Japanese police hunt for escaped prisoner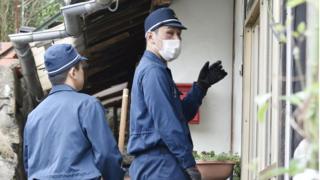 Japan's justice minister has apologised for the authorities' failure to catch a prisoner who escaped nine days ago.
Tatsuma Hirao, 27, is suspected of stealing items including socks, a car and a mobile phone since his escape.
Around 6,600 officers have now joined the hunt for him on the small island of Mukaishima and 96 prison officers have been sent to secure schools.
Hirao was serving a five-and-a-half-year sentence for theft at a low-security prison in south-western Japan.
The owner of the vehicle which was stolen later found a message from the suspect that read: "I'm borrowing your car but I'll never damage it."
Hirao is believed to be on Mukaishima, a small island of around 20,000 people located 70km (43 miles) east of Hiroshima.
The search has been hampered by the large numbers of unoccupied holiday homes on the island, estimated to be around 1,000, which authorities are unable to enter without warrants.
Speaking at a news conference on Tuesday, Justice Minister Yoko Kamikawa apologised, saying: "I have heard the incident has caused anxiety among elderly people living alone and troubles such as traffic jams at police checkpoints.
"I feel really sorry."