Why Ardern's Maori cloak, worn to meet the Queen, delighted New Zealand
By Andreas Illmer
BBC News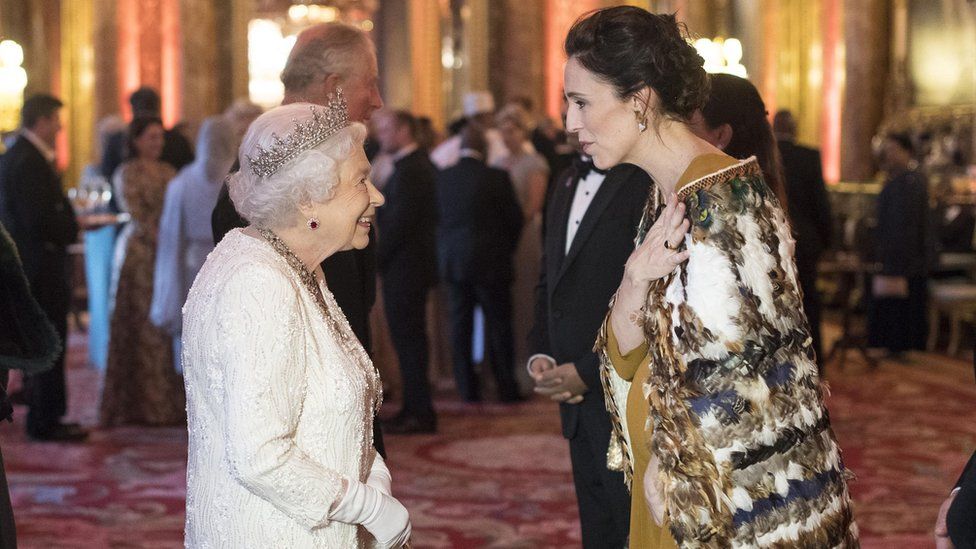 When New Zealand Prime Minister Jacinda Ardern wore a traditional Maori cloak to meet the Queen, it had quite a few people scratching their heads - and most New Zealanders glowing with pride.
It's a korowai, a garment woven with feathers and steeped in history, tradition and cultural significance.
Worn by Maori on special occasions, it surprised some when it turned up in London at the Commonwealth Summit.
But it's not that unusual. The Queen also wears one whenever she visits New Zealand.
What does this say about Maori culture?
The photos of Ms Ardern wearing the korowai have generated a wave of pride, enthusiasm and support online, with people praising it as "stunning" and "beautiful", while New Zealanders have been filled with pride and respect.
"It makes me really emotional," Donna Campbell, herself a Maori weaver and a lecturer at Waikato University in Hamilton, told the BBC. "It's a real acknowledgment of the prestige and power of a woman."
"To wear something that is so intrinsically of this place here, and for her to wear it at that event knowing that she would be photographed from every angle, that's a real acknowledgment of her relationship with the Maori people and with New Zealand."
Where did Ardern get it from?
"Korowai are a very special form of cloak," explains Vini Olsen-Reeder, a lecturer in Maori studies at Victoria University. "There are lots of different kinds of cloaks, but the korowai is the one with the highest prestige."
Traditionally, it would be awarded only to people from the upper echelons of Maori society, or given as a gift to people from outside the community if they were thought to be of equally high standing.
In this case the korowai was given to Ms Ardern by a Maori group in London, for her to wear at the Commonwealth Summit.
An amazing image of leadership in 2018. 😍
New Zealand's feminist Prime Minister Jacinda Ardern, wearing a korowai (Māori cloak), attending a Commonwealth meeting in the post-empire colonised world. pic.twitter.com/vSV7YB7niE

— Mariam Parwaiz (@MariamParwaiz) April 20, 2018
"The significance of the garment is the prestige that comes with it," agrees Ms Campbell.
"What it represents is the mana of a person, that's the prestige and power of the person wearing it. So for Jacinda to be wearing it at this event is completely fits with the weight of the occasion; from a Maori point of view, this garment is entirely appropriate."
Having won a surprise victory last year, Ms Ardern is the world's youngest female prime minister. The fact that she is pregnant adds to the importance of the korowai as it now serves "like a kind of protection for both mother and child", Ms Campbell says.
Where does the Queen keep hers?
As the picture of the korowai-clad prime minister made the rounds on social media, even the Royal Family's Twitter account featured a shot of the scene.
The Queen's own korowai was given to her in the 1950s, and is kept in New Zealand for whenever she visits the country.
Inside New Zealand, wearing a korowai is not that unusual. Since the resurgence of Maori culture over the past 20 years, it has become increasingly common to wear the cloak on special occasions, explains Mr Olsen-Reeder.
You'll see them at graduation ceremonies with students wearing the traditional garb which in most cases has been handed down in the family for generations.
"When I graduated from university, I also wore my family's korowai," he says. "And I've been the fourth generation wearing it."
In essence, the garment is meant to resemble a bird, he says, "likening the wearer to those beautiful majestic creatures".
How great an honour is it to wear one?
Each korowai is woven by hand and it's a job that takes months - and in some cases years - to complete.
The finished cloak is then usually kept within the family and handed down from each generation to the next.
While traditionally worn only within the Maori community, the cloaks can now be seen also on the shoulders of non-Maori New Zealanders - as a gift to a politician or dignitary for a special occasion.
Ms Ardern's korowai would fall into that very category and Mr Olsen-Reeder cautions not to see it as a case of cultural appropriation.
"Given the premise of that gift to her, what she's doing is entirely appropriate. That particular korowai has been given to her to signify her as a really important part of New Zealand culture."