New Zealand's Hawera Cinema bans pyjamas and onesies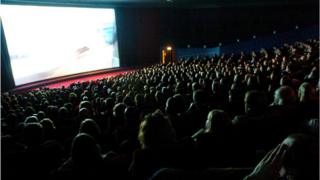 A cinema in New Zealand has banned people from wearing pyjamas, onesies and dirty boots to screenings, in a move designed to raise dress standards.
Hawera Cinemas said in recent months it had seen an increasing number of patrons attending in nightwear.
It announced the ban in a Facebook post, adding the clothes did not encourage the right "vibe".
The dress code at the cinema, located on the country's North Island, has sparked heated debate on social media.
Fashion police?
Kirsty Bourke, manager at Hawera Cinemas said over the last two months the cinema has seen "an increase in customers wearing pyjamas and customers wearing dirty gumboots and work boots, so like many restaurants and clubs we decided to adopt a dress code".
"The support we have received is fantastic. We have had customers all day congratulating us," she told the BBC.
Judging by the Facebook debate, many people support the dress code - and wouldn't have thought of violating it in the first place.
But not everyone agrees. Some argue the cinema should mind its own business and let their audience show up in whatever they choose.
'We will refuse entry'
While there's been lively debate on Facebook, the cinema itself hasn't received any complaints since the policy was announced at the weekend.
But Ms Bourke warns "if customers turn up in their pyjamas, we will refuse entry".
She's confident the change won't be bad for business.
"We believe we will lose more customers by not adopting a dress code," she said.
"Restaurants and clubs have always had dress codes so why not cinemas?"