Myanmar violence: Thousands flee fresh fighting in Kachin state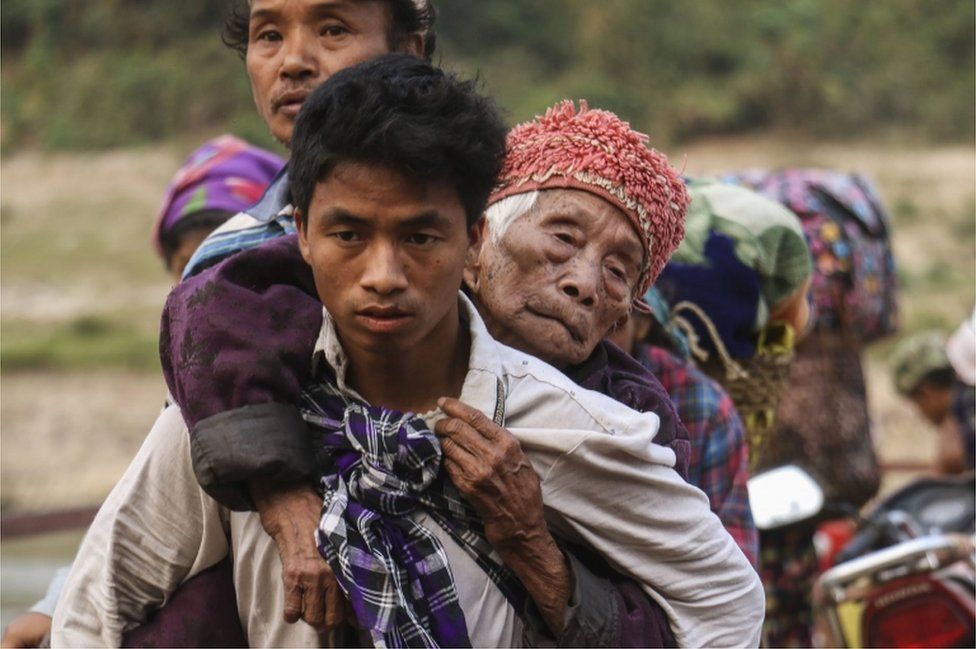 Thousands of people have fled renewed fighting between the army and ethnic Kachin rebels in Myanmar's northernmost state.
Some 4,000 people have been driven from their homes since early April, according to the UN.
It comes as a longstanding conflict between the Kachin Independence Organisation (KIO) and government troops escalates.
The military is said to be pounding the rebels with airstrikes and artillery.
As well as the thousands displaced, there are fears that many people remain trapped in conflict-stricken areas, near the border with China. Aid organisations have urged the government to allow them access.
"Our biggest concern is for the safety of civilians - including pregnant women, the elderly, small children and people with disabilities," Mark Cutts, the head of the UN's Office for the Coordination of Humanitarian Affairs (OCHA), told AFP news agency.
"We must ensure that these people are protected."
Who are the Kachin rebels?
In addition to the Rohingya crisis in western Myanmar (also known as Burma), the country's north has seen clashes involving other ethnic minorities.
The Kachin, who are mostly Christian, have fought for greater autonomy in this predominantly Buddhist nation since 1961.
Across Kachin and northern Shan state, an estimated 120,000 people are displaced by the fighting.
But fighting with the relatively well-armed KIO has continued, and they remain one of the most powerful rebel groups.
Why the surge in violence?
Sporadic fighting has taken place since a ceasefire broke down between the KIO and the military in 2011.
Rights groups say the army has stepped up its campaign while global attention focuses on the Rohingya crisis, which has seen some 700,000 people flee to Bangladesh.
What has the international response been?
The country's de facto leader Aung San Suu Kyi has been criticised for failing to end human rights violations and restricting access to aid in Myanmar.
The UN has called on the authorities to stop dismissing reports of abuses in Kachin.
"We call upon the government, including the military, to protect civilian populations and allow humanitarian assistance to be delivered to those affected by the conflicts," it said.