North Korea changes its time zone to match South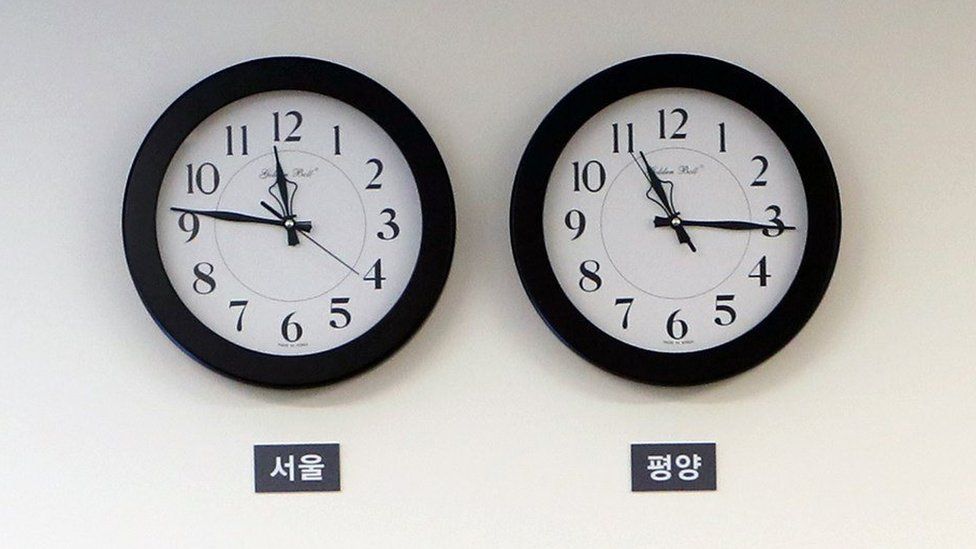 North Korea has changed time zone to match the South after last week's inter-Korean summit, according to state media.
At 23:30 local time (15:00 GMT) on Friday the country's clocks moved forward 30 minutes to midnight.
The reset is "the first practical step" to speed up Korean unification, the official KCNA news agency said.
Meanwhile, US President Donald Trump says he has a date for his meeting with the North's leader, Kim Jong-Un.
"We now have a date and we have a location, we'll be announcing it soon," Mr Trump told US journalists outside the White House on Friday, adding that he was expecting "very, very good things" to come out of it.
Mr Trump will host South Korea's president Moon Jae-in at the White House on 22 May to discuss the upcoming meeting.
What time does North Korea keep?
Until now, it was on Pyongyang Time, which is half an hour behind South Korea and Japan.
It introduced the extra 30 minutes in 2015 as a stand against "wicked Japanese imperialists", because its hours were changed to match Tokyo's when the Korean peninsula was under Japan's rule.
South Korea (which is nine hours ahead of GMT) had also moved away from Japanese time in the 1950s but it switched back again in the 1960s.
Two clocks - showing the time in North and South Korea - sit side by side in Panmunjom, the town in the so-called Demilitarized Zone (DMZ) where the two countries' leaders recently met.
When will Trump and Kim meet?
President Trump did not share details on the time and place for the landmark meeting with Mr Kim.
It is expected to happen in May or early June.
Mr Trump has previously expressed a preference for meeting in the demilitarized zone between the North and South but Singapore is also an option.
The meeting was suggested and provisionally agreed in March, after a South Korean delegation met Mr Kim in Pyongyang and later visited the White House.
America's main goal is to secure the North's nuclear disarmament.
Discussions are already believed to be under way to secure the release of three US hostages held in North Korea before the two leaders come face to face.
"We're having very substantive talks with North Korea and a lot of things have already happened with respect to the hostages," said Mr Trump on Friday.
He denied suggestions that he was considering taking US troops out of South Korea as part of the negotiations.
Who else has changed their clock?
In 2007, Venezuela's former leader Hugo Chávez turned the clocks back by half an hour, saying it would allow more people to wake up in daylight.
However, many believed he mostly wanted to distance himself from the time zone of his arch-enemy, the US.
Are there other unusual time zones?
Canada's Newfoundland province is officially half-an-hour out of step with other Atlantic provinces.
India is half-an-hour ahead of Pakistan and a mere 15 minutes behind Nepal.
Western Australia and South Australia observe a 90-minute time difference across the state boundary.
However, the remote border town of Eucla and the surrounding area, home to a few hundred people, unofficially operate on their own time zone, 45 minutes ahead of Western Australia and 45 minutes behind South Australia.