Pakistan coal mine blast kills 23 near Quetta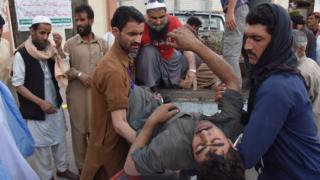 At least 23 miners have been killed in accidents triggered by a gas explosion at a coal mine in western Pakistan, officials said.
A cave-in at a mine in Marwaarh, east of the city of Quetta in Balochistan, killed 16 miners. Seven more were killed in a landslide at another mine nearby.
Rescue teams are trying to find others still trapped in the rubble.
Balochistan is rich in minerals but its mines have a poor safety record.
At least 15 more miners were injured in the two incidents.
Officials said the blast was caused by a build-up of methane gas.
"We are trying our best to recover bodies but it will take time as most of the bodies are buried very deep," government official Jawaid Shahwani told AFP news agency from Quetta.
Most of the miners came from the same village in Khyber Pakhtunkhwa's Shangla district, officials told Pakistan's Dawn newspaper.
The Pakistan Central Mines Labour Federation says that up to 200 mine workers die on average in mine accidents every year.
A gas explosion at a Balochistan mine in 2011 killed more than 40 people.