Philippines and Kuwait sign agreement on workers' rights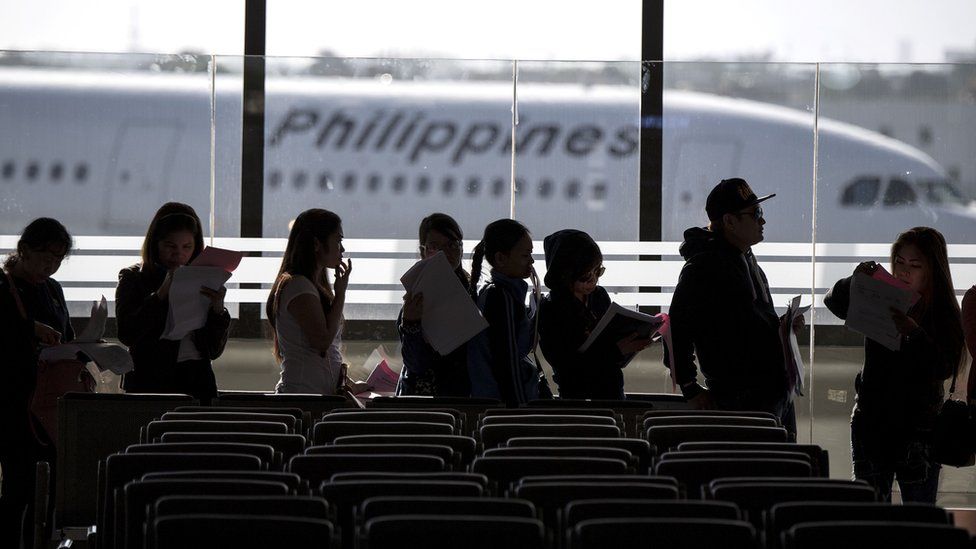 A bitter dispute between Kuwait and the Philippines over the treatment of domestic workers is set to end with the signing of a new agreement.
Philippine President Rodrigo Duterte had banned workers travelling to Kuwait amid allegations of abuse.
Public outrage followed the murder of a young maid whose body was found in a Kuwaiti apartment freezer in February.
The resulting diplomatic row resulted in the expulsion of an ambassador and the arrest of embassy employees.
About 260,000 Philippine citizens live and work in Kuwait, most as domestic servants.
A copy of the agreement seen by AFP news agency reportedly includes the right for workers to keep their passports and mobile phones, which are routinely confiscated by employers in Kuwait and other Gulf states.
Workers would be guaranteed food, housing, clothing and health insurance - and employment contracts would be renewed only with approval from Philippine officials, AFP said.
Speaking after the signing of the new agreement on Friday, Philippine officials said a new ambassador would be appointed to Kuwait and would advise President Duterte to lift his ban on workers travelling to the country.
"I think the crisis is over. We will move on with the bilateral relations and we will resume normal ties with Kuwait," an official told AFP.
Stories of abuse, however, remain common.
The death of Joanna Demafelis, a 29-year-old maid, was one cause of the diplomatic crisis.
She was found dead in a freezer in her employer's apartment in February, more than a year after she was reported missing, with signs of torture.
Her employers, a married couple, were found after an extensive search aided by Interpol.
Kuwait called the actions "smuggling" and a violation of its laws, and arrested employees of the Philippine embassy. It said it would "chase down" those responsible and put them on trial.
It also recalled its own ambassador to the Philippines - which the Philippines only discovered when it summoned him to protest against the treatment of its citizens in Kuwait.