Malaysia to review not revoke fake news law, says Mahathir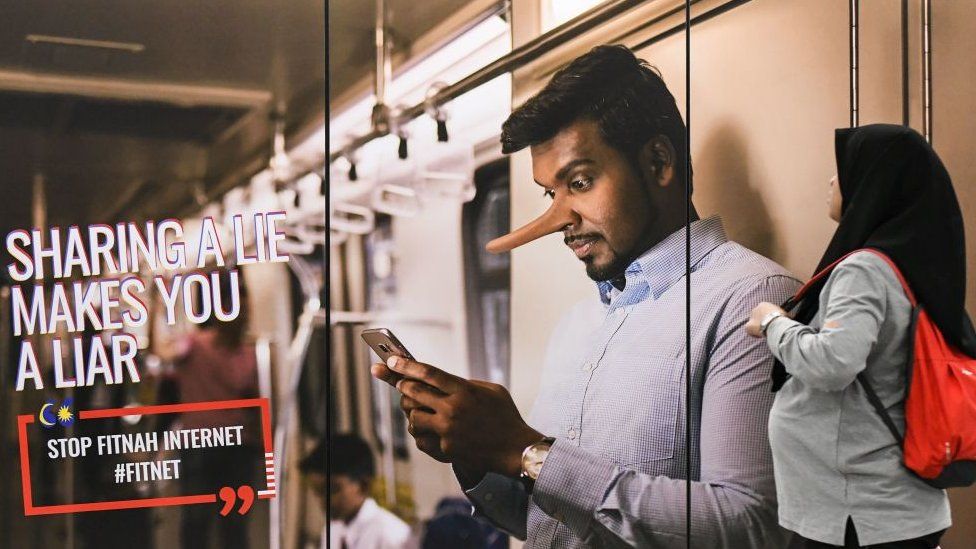 Malaysia's new Prime Minister Mahathir Mohamad has said he will redefine a controversial anti-fake news law introduced by his predecessor.
The legislation, brought in just before last week's election, was criticised as undermining freedom of speech.
Mr Mahathir had himself been targeted under the law and during his campaign had vowed to entirely abolish it.
But he has now said there have to be "limits" to freedom of the press and freedom of speech.
Meanwhile the head of AirAsia has apologised for backing the ousted government of Najib Razak.
Days before the election, the budget airline's chief Tony Fernandes had released a video supporting Mr Najib and had an AirAsia aircraft painted with a slogan for the ruling government.
Under Malaysia's controversial fake news law, anyone convicted of disseminating false content can be jailed for six years or fined up to RM500,000 ($128,000; £90,400), or both.
The laws were introduced in April, just over a month before the general election. Critics said it was an attempt by the authorities to stifle dissent.
One person, a Danish national, has been convicted so far.
Mr Mahathir was himself investigated for allegedly spreading fake news, over claims his plane had been tampered with.
But the new prime minister said on Sunday: "Even though we support freedom of press and freedom of speech, there are limits."
"The fake news law will be given a new definition so that the public and media outlets will know what is fake news and what is not fake."
Royal pardon for future PM?
In a bitterly contested election, Mr Mahathir, 92, last week ousted the Barisan Nasional (BN) coalition which had been in power since independence in 1957.
Himself a former prime minister with BN, he came out of retirement and defected to the opposition to take on his former political ally and protégé Najib Razak.
Mr Anwar was once Mr Mahathir's deputy, but was jailed on widely criticised charges of sodomy and corruption amid bitter tensions between the two men.
The jailed politician's daughter, Nurul Izzah, on Saturday confirmed reports that her father would "receive a full royal pardon" and was due to be released on Tuesday.
Najib banned from leaving
Ousted Prime Minister Najib Razak, meanwhile, has been banned from leaving the country, immigration officials say.
It comes after Mr Najib said that he and his wife were planning to go on an overseas holiday on Saturday.
Mr Najib has been accused of diverting $700m (£517m) from a state investment fund in 2015.
He has been cleared by Malaysian authorities, but Mr Mahathir has said he could face a fresh investigation if sufficient evidence supports it.