Maori face tattoo: It is OK for a white woman to have one?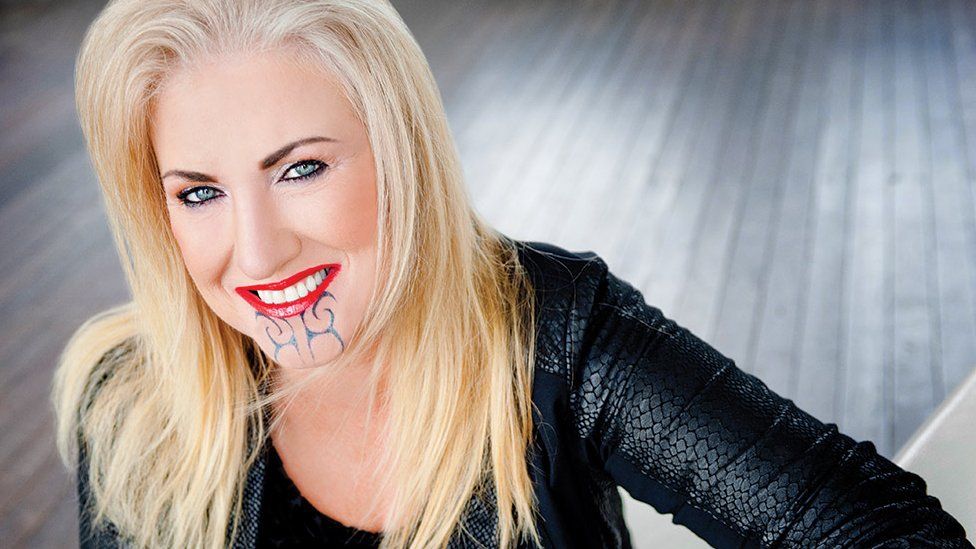 Facial tattoos have been a part of Maori culture for centuries, a sacred marker of the wearer's genealogy and heritage.
But one woman's striking chin design - or moko - has generated huge debate in New Zealand, because she is white, with no Maori heritage.
Sally Anderson, who is married to a Maori man, says her moko symbolises her personal struggles and life story.
But she's been accused of appropriating Maori culture for personal gain.
"We have to protect the last bastions that we have as Maori to make us different," said one expert.
Why are moko so important to Maori?
Moko are carved into the skin using chisels. They are a sacred tradition, denoting a person's links with their family and cultural identity.
Facial tattoos - moko kauae - are of particular importance. Men's moko tend to cover their entire face, while the women's cover the chin.
"Maori regard the face or the head as particularly sacred," says Mera Lee-Penehira, associate professor at Te Whare Wānanga o Awanuiārangi.
"So the carvings that go on the face or head are also particularly sacred."
Ms Anderson, who runs a life coaching business, had her moko kauae done a few years ago by a Maori artist.
She has been quoted as saying it symbolises what she has gone through in life, including a violent gang rape in her youth.
The simple design "explains the transformative work that Sally does", said a statement on her website.
The tattoo artist Inia Taylor has said he had "strong reservations" about carrying out the work, "but after many calls and discussions I realised that the only reason to denying her would be that of race".
But he recently complained to Ms Anderson that she seemed to be using the moko to promote her business. In response, Ms Anderson took the references to her tattoo off her website, though pictures remained.
Why are some Maori upset?
"It's not acceptable," says Ms Lee-Penehira, who herself has a chin moko. "You can only have it if you have a genealogy that is Maori.
"It reflects who we are and it represents your family, your sub-tribes and tribes."
Associate Professor Te Kahautu Maxwell at the University of Waikato - who is also tattooed - says the moko has become an important symbol of post-colonialism.
"It's a tradition that was nearly obsolete because of colonisation and the practices of missionaries," he told the BBC.
It's only since the late 20th Century that there has been a huge resurgence in taking the moko, both for men and women.
"It's the Maori deciding to reclaim their heritage and identity," says Mr Maxwell.
"We have to protect the last bastions that we have as Maori to make us different."
The moko "stands as a bastion of our survival", she wrote. "Cultural appropriation has pillaged almost every other taonga [treasure] sacred to our people. The line is drawn here."
"She paid for it. It's her chin and if she wants to walk around with a scribble on her face that's entirely up to her."
Are moko accepted on Maori people?
Mr Maxwell says it's been "a challenge" for those who have tried to bring back the moko.
"As a wearer myself I am looked down upon even though I am an associate professor at a university," he says.
"Non-Maori see me in the supermarket for instance and they laugh at me and their kids say 'mommy mommy that man looks funny'. Those are the things that I have to endure as a Maori trying to have the moko accepted once again."
Ms Lee-Penehira got her moko done some 12 years ago and says that at the time it was still unusual for women to do so.
"I am very happy to say though that it is no longer a rarity now, it's becoming more common practice among our women."
She stresses that she is not making any judgement on Ms Anderson as a person. "But the bottom line is that the Koko is solely the right of Maori - and we need to guard and protect that."
What does Sally Anderson say?
She has not commented on the furore.
Her husband Roger Te Tai, who is Maori and has a full facial moko, told TV show Te Karere that it took him a while to accept her wish to get the tattoo, but that his wife was "more Maori than you'll ever be".
"Because her heart is pure, always has been. Her soul is a pure soul.
"When you judge a person and you haven't met them, what does that say about you?"