North Korea nuclear test tunnels at Punggye-ri 'destroyed'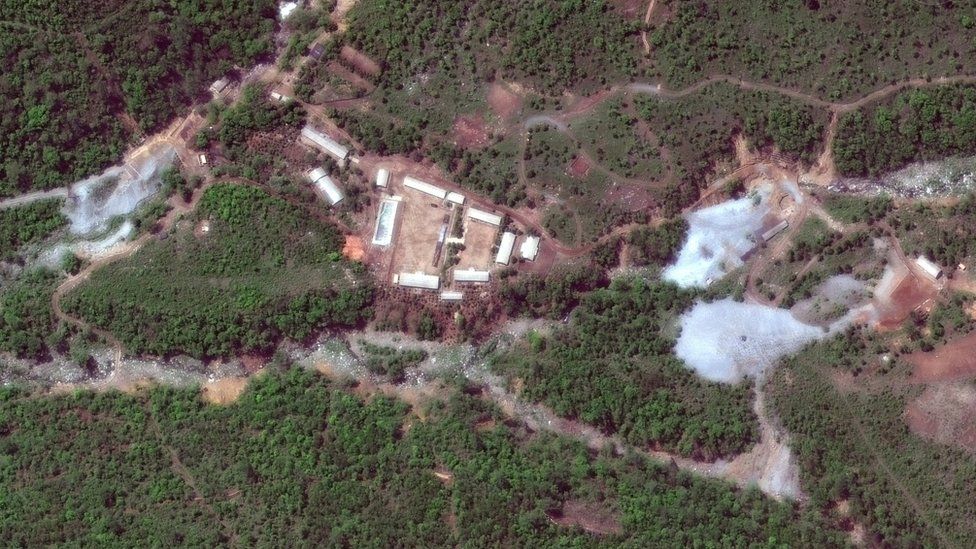 North Korea appears to have blown up tunnels at its only nuclear test site, in a move to reduce regional tensions.
Foreign reporters at the Punggye-ri site in the north-east said they had witnessed a huge blast. Pyongyang later said the site had been dismantled.
The move by the North was seen as part of a diplomatic rapprochement with South Korea and the US.
But scientists believe it partially collapsed after the last test in September 2017, rendering it unusable.
It came ahead of a planned summit between US President Donald Trump and North Korean leader Kim Jong-un in Singapore on 12 June, which has now been cancelled by Mr Trump.
Independent inspectors were not allowed to witness the process of the dismantling of the Punggye-ri site in the mountainous region of the country, and some worry it could be easily reversible, the BBC's Laura Bicker reports.
What happened on Thursday?
Three tunnels were collapsed in a series of explosions in front of about 20 handpicked international journalists.
Two blasts were reportedly carried out in the morning, and four in the afternoon.
Tom Cheshire of Sky News was among the journalists present. He said the doors to the tunnels were "theatrically rigged" with "wires everywhere".
"We hiked up into the mountains and watched the detonation from about 500 metres [550 yards] away," he said.
"They counted it down: three, two, one. There was a huge explosion, you could feel it. Dust came at you, the heat came at you. It was extremely loud."
North Korea's Nuclear Weapons Institute later said in a statement that the dismantling of the site "was done in such a way as to make all the tunnels of the test ground collapse by explosion and completely close the tunnel entrances", NK News website says.
"It has been confirmed that there were neither leakage of radioactive materials nor any adverse impact on the surrounding ecological environment."
The South Korean government welcomed the news.
"[We] expect it to serve as a chance for complete denuclearisation going forward," Foreign Affairs Ministry spokesman Noh Kyu-duk was quoted as saying by Yonhap news agency.
Analysis by Mark Fitzpatrick, executive director, International Institute for Strategic Studies-Americas
Destruction of the nuclear testing tunnels at Punggye-ri is a demonstrable, tangible step toward the denuclearisation goal that leader Kim Jong-un agreed to at the 27 April Panmunjom Summit.
However, North Korea should have allowed experts from the Comprehensive Test Ban Treaty Organization to observe the tunnel collapse. Not doing so signalled disinterest in verification standards that will be required for any denuclearisation agreement with the US.
This harks back to the situation in mid-2008, when, with cameras rolling, North Korea destroyed the cooling tower of its plutonium-production reactor in Yongbyon, but a few months later refused to accept verification requirements to prove that its declaration of plutonium production was complete and correct.
Negotiations collapsed and North Korea went on to re-use the reactor after installing a different cooling system.
Similarly, North Korea could easily construct new tunnels to resume nuclear testing. Still, the collapse of three existing tunnels, two of which appeared to still be operable, is a welcome first move. It will undoubtedly want something in exchange before it takes more steps.
What do we know about the site?
North Korea has conducted six nuclear tests since 2006 in a system of tunnels dug below Mount Mantap.
It is thought to have been the North's main nuclear facility and until now the only active nuclear testing site in the world.
It is located about 370km (230 miles) north-east of Pyongyang.
Test devices are buried deep at the end of the tunnels, which end in a hook.
The tunnel gets backfilled to prevent radioactive leakage and then the device is detonated.
What would it take for North Korea to truly denuclearise?
Pyongyang's reported dismantling of the site is seen by analysts as a first step.
But it could indicate that it believes its nuclear programme has made sufficient progress and full testing is no longer needed, Catherine Dill from the Middlebury Institute of International Studies (MIIS) says.
She says North Korea's nuclear weapons programme also goes far beyond the existence of one site.
Satellite imagery will be used by governments and independent experts to monitor for activity, new buildings and equipment, which might indicate that North Korea plans to resume testing.
Satellite imagery may not help if North Korea clandestinely opens a new nuclear test site, Ms Dill says, as it has many other mountains that could be used.
But if that were the case, it would be unable to hide any new underground tests, as the resulting seismic tremors would be detected.
What about the recent US-North Korea row?
Earlier on Thursday - ahead of the cancelled of the planned US-North Korea summit - North Korean official Choe Son-hui dismissed remarks by US Vice-President Mike Pence as "stupid".
Ms Choe, who has been involved in several diplomatic interactions with the US over the past decade, said the North would not "beg" for dialogue and warned of a "nuclear showdown" if diplomacy failed.
Her comments came after Mr Pence warned that North Korea "may end like Libya" - where then-leader Muammar Gaddafi was killed by rebels in 2011 after renouncing nuclear weapons eight years earlier.