Is India's Congress party really running out of cash?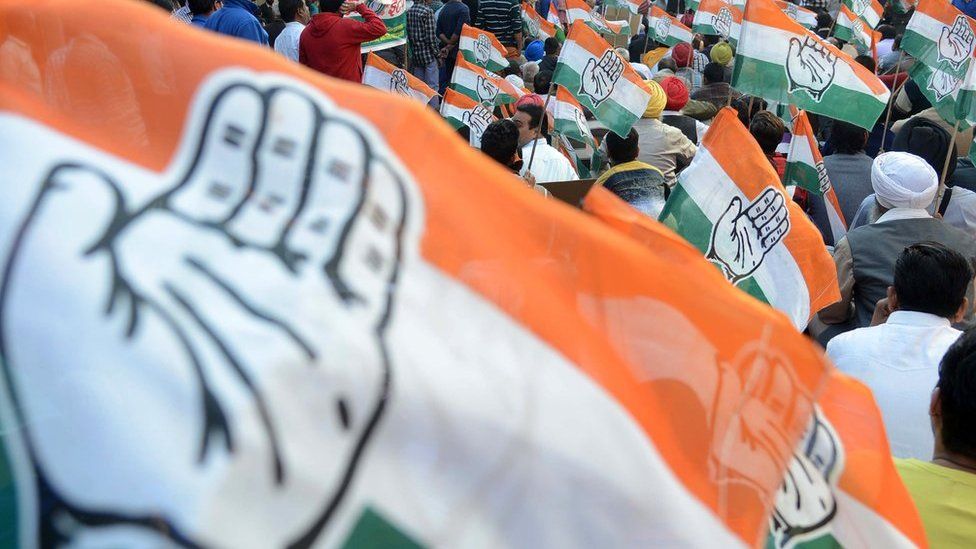 India's oldest political party, the Congress - which has ruled the country for 49 of its 71 years as an independent nation - has made a public appeal for funds on Twitter, perhaps for the first time in its 133-year history.
That is surprising for India's main opposition party. Founded in 1885 by elite intellectuals to challenge British colonial rule, it eventually morphed into a political movement with massive grassroots support and seemingly limitless coffers.
The party's official twitter handle invited people on Thursday to make a "small contribution". The tweet received mixed reactions. Many obliged and then retweeted the appeal. But several others seemed either outraged or amused at the request. They found it hard to believe that India's "grand old party" was short of funds.
So is this is an attempt by the party to position itself as a transparent organisation funded by supporters, or it it truly facing a financial crunch?
How much money does the Congress have?
"We don't have money," Divya Spandana, the head of Congress' social media presence, is quoted as saying in Bloomberg.
While this may not seem like a small amount, it's far less than what was declared by the ruling Bharatiya Janata Party (BJP), which is the richest with an income of $151.5m.
The Congress is still India's second richest party, but its income in 2017 shows a decrease by $5.3m. The BJP's income, on the other hand, had more than doubled from what it earned in 2016.
The income declared by the parties is drawn from donations, fees paid by party members as well as interest earned on savings and others financial schemes. But the question is, do they have other sources of income?
Although political parties are required to declare their income, their finances are far from transparent.
A 2017 report by ADR had found that a whopping 69% of parties' income still came from unknown sources. Then there is the money that does not make it to any official record - elections in India are routinely accompanied by allegations of "illicit money" or "black money", which takes the form of unaccounted cash.
So how would a party "go broke"?
Elections in India are expensive. Candidates in the 2014 election spent a total of $5bn, according to one estimate. Compare this to the US election in 2012 which is believed to have cost around $6bn.
So, the longer a party stays out of power, the fewer the opportunities to raise money. And analysts believe that the Congress' finances reflect its political fortunes.
It won less than 20% of the popular vote in the 2014 parliamentary election, securing just 44 - or 8% - of the 543 parliamentary seats in its worst poll performance ever. The Congress is now in power in only two big states - Karnataka and Punjab - and two smaller ones.
The BJP and its allies are in power in 22 of India's 29 states.
Will this hurt the Congress in the upcoming national election in 2019?
"A good public stunt," is how Vipul Mudgal, a trustee at ADR, described the Congress' appeal for donations.
He says its a "smart move" by the Congress to cast itself as a clean party that is not receiving sufficient contributions from corporate companies and other rich donors. The Congress government was accused in a series of high-profile scams when it was last in power.
Mr Mudgal said the bigger issue is that there is no way to know how much money political parties actually earn or possess.
Now, individuals and companies can buy electoral bonds, which are an anonymous, murky way to fund political parties. These bonds come in specified amounts and, at the end of 15 days, must be deposited in to the bank account of any political party that has earned 1% or more of the votes in the last election.
The bonds are, in fact, donations, but the party is not required to disclose the name of the donor. And the donor, even if it is a company, need not declare the donation or name the party that has received it.
Mr Mudgal estimates that a single candidate in a state election spends about $1.4m but the income declared by political parties amounts to far less than that. "Elections are a monster that eats black money," he added.
Campaigns and election rallies have become elaborate affairs in India, complete with chartered flights and social media strategists. So, contesting 545 seats in 2019 will certainly drain any party's coffers. Can India's grand old party survive that?