The story of Pakistan's 'disappeared' Shias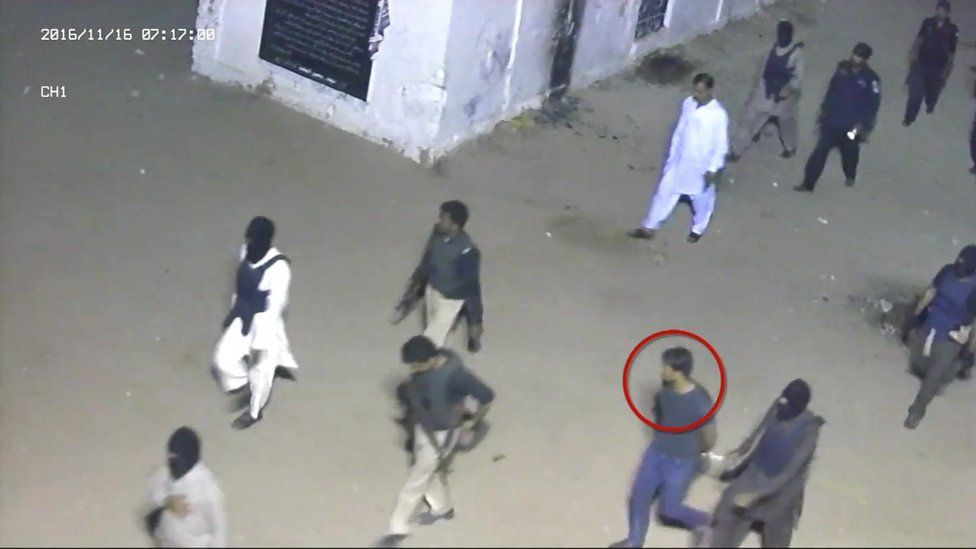 CCTV images from a local mosque show 30-year-old Naeem Haider being led away in handcuffs by more than a dozen armed men. Some have their faces covered with masks, others are in police uniform.
It was the night of 16 November 2016. Mr Haider has not been seen since. Despite the CCTV video evidence both the police and intelligence services have denied in court that he is in their custody.
Mr Haider is one of 140 Pakistani Shias to have "disappeared" over the past two years, according to community activists. Their families believe they were taken into custody by the intelligence services. Over 25 of the missing, including Mr Haider, belong to Pakistan's largest city Karachi.
Mr Haider's family say he had returned to the port city from pilgrimage in Karbala, Iraq, with his pregnant wife just two days before he was detained.
Uzma Haider has since given birth to a baby boy who has never seen his father.
"My kids are always asking me, 'When will our dad come home?'" she told the BBC. "What answer can I give them? No-one is telling us where he is or how he is. At least tell us what he's accused of."
The families of the other "disappeared" Shia men have similar stories of their loved ones being picked up from their homes at night by the security forces.
A tearful group of women gathered in a house in a working class Shia neighbourhood of Karachi told me they have been given no information from the authorities about where their relatives are being held or what the allegations against them are.
Community leaders though, say they have been told the men are suspected of links to a secretive militia in Syria, the Zainabiyoun Brigade, thought to be made up of around 1,000 Pakistani Shias fighting on behalf of the regime of President Bashar al-Assad.
The brigade takes its name from the granddaughter of the Prophet Muhammad, a figure particularly revered in Shia Islam. Zainab bint Ali's shrine is in the Syrian capital Damascus, and the ostensible purpose of the brigade is to protect it from destruction by Sunni extremists like the Islamic State group who believe shrines are heretical.
In fact, the Zainabiyoun are also believed to have fought in a number of key battles in Syria, including in Aleppo.
They are not, however, named on a list of proscribed organisations issued by the Pakistani Ministry of Interior, and none of the "missing" men have ever been charged with any offence.
Rashid Rizvi is the head of the Shia Missing Persons Committee in Karachi. He has lead a number of protests in the city calling for the men to either be released or produced in court. He says most of the men were detained after returning from pilgrimage to the Middle East.
"Some representatives of the 'state institutions' came to meet me," he tells the BBC, using a euphemism for the intelligence services.
"They tried to convince us to end our protest movement… I asked them 'Why did you pick these men up?' They said, 'We think they've gone to Syria to fight against Daesh (IS) and al-Qaeda.'
"I said, 'If that's the case, then put them on trial… Otherwise what's the point of having judges and courts?"
Pakistan's security forces did not respond to a BBC request for comment.
"Missing people" are one of the most sensitive issues in Pakistan. According to official data there are more than 1,500 unresolved cases of enforced disappearances in the country. Those detained also include suspected Sunni jihadists, ethnic nationalist activists, and secular critics of the Pakistani military establishment.
Authorities in Pakistan have often said the security services are unfairly blamed for disappearances and that the number of missing people is inflated.
A handful of the Shia men who were picked up have subsequently been let go.
One young man, who did not want to be identified, told the BBC he had been held in a "small, dark cell" where he was "badly tortured" by the security services, including by electric shocks. He says he was repeatedly interrogated about the Zainabiyoun, with questions focussed on who he knew in the brigade, and where their funding was coming from.
Another is social activist Samar Abbas. He was detained in Islamabad in January 2017 at the same time as a number of bloggers critical of Pakistan's military establishment.
They were released a few weeks later after a public outcry, however, Mr Abbas was held captive until March 2018. His brother-in-law was also detained and is still "missing".
Mr Abbas was released after he says his captors told him he had been cleared of any wrongdoing. He told the BBC he is "grateful" for having been released, but says his period in detention has been traumatising for his family, particularly his young children. "They lost their childhood… My daughter doesn't like to leave me even for a single minute."
Mr Abbas told the BBC that he was interrogated about his activism, and that some questions focussed on the Zainabiyoun.
"They told me 'You are involved in sending people to Syria to fight… Tell us their names.'
"I said, 'I have never visited there [Syria] in my life.'"
The Zainabiyoun Brigade is part of a network of Shia foreign fighter brigades operating in Syria, linked to Iran.
Others include Iraqi militias, Hezbollah from Lebanon, and the Fatemiyoun Brigade - consisting of Afghan fighters.
The Zainabiyoun is the most secretive of the groups; however supporters have uploaded some pictures and videos of "martyrs" from the brigade. Many appear to be from Parachinar, a city in Pakistan's north western semi-autonomous tribal regions. Parachinar has a substantial Shia population and has been repeatedly targeted by Sunni jihadists.
Researchers believe over 100 Pakistani fighters have been killed in Syria, with their families said to receive financial support from Iran.
Shia community leaders told the BBC they believed the intelligence services in Pakistan likely feared returning Zainabiyoun members would continue to act on Iran's orders, and could increase sectarian tensions with the country's Sunni majority. However, they were sceptical that the fighters would ever pose a threat within Pakistan.
The families of the disappeared men say their relatives are not involved with any armed groups. Their demands are simple.
"For the sake of God, tell me where my child is," pleads 65-year-old Shamimara Hussain. She breaks down in tears as she talks about the moment her youngest son Arif Hussain was taken away from her home by security forces.
"They told me, 'we are just going to ask him a few questions and then let him go.'
"It's now been a year and a half now and we've had no news about him. If they've killed him or he's still alive, just tell me something… I've been all over the city trying to find him. I'm tired of crying, I'm tired of praying."