Kim Yong-chol: N Korea leader Kim Jong-un's right hand man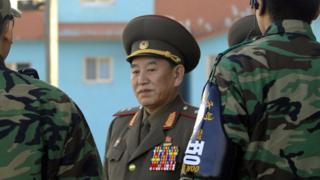 North Korean general Kim Yong-chol is reportedly heading to Washington DC via Beijing as part of the preparations for a summit between North Korea and the United States to be held in Singapore in June.
The General's trip to the US is another remarkable development in a year of surprises surrounding Korean diplomacy.
He is often referred to as Supreme Leader Kim Jong-un's right-hand man and is notionally forbidden to travel to the States, having been twice sanctioned by Washington.
But he has been at his leader's side at key summit meetings this year, and his current trip to Beijing is seen as a stopping-off point for a solo trip to America.
During his time as North Korea's military intelligence chief, Gen Kim was accused of masterminding attacks on the South Korea warship Cheonan and Yeonpyeong Island in 2010.
He is also linked to the cyber-attack on Sony Pictures in 2014 and led the country's delegation to the 2018 Winter Olympics closing ceremony in South Korea's Pyeongchang earlier this year.
Who is General Kim?
General Kim Yong-chol, 72, has emerged as a key player in North Korean diplomacy in the first half of 2018.
Despite the same surname, he's no relation to the country's Supreme Leader.
He has been at Kim Jong-un's side in both of his meetings this year with Chinese President Xi Jinping.
He sat on the Supreme Leader's right during his first meeting with South Korean president Moon Jae-in at the Inter-Korean summit at the end of April, and hosted a visiting South Korean art troupe the same month.
The general was also one of the welcoming party for US Secretary of State Mike Pompeo's recent visit to Pyongyang, and his planned trip to Washington is thought to be a reciprocal gesture.
The former spy chief's current official position is vice-chairman of the Central Committee of the Worker's Party of Korea, but he rose to prominence as Pyongyang's chief military negotiator during inter-Korean talks between 2006 and 2008.
He later served as the director of the General Reconnaissance Bureau, tasked with cyber-warfare and gathering foreign intelligence, from 2009 to 2016.
In 2016, he took charge of the United Front Department, the civilian intelligence agency which supposedly operates pro-North Korean groups in South Korea and handles inter-Korean affairs.
Soon after this appointment, however, he was reportedly sent for "ideological re-education" as punishment for an "overbearing attitude", according to South Korean daily JoongAng Ilbo.
He retained his posts despite the punishment, and his rise to prominence in 2018 shows he is clearly very much in favour and a valued advisor to Kim Jong-un.
A controversial figure
General Kim's re-emergence was initially met with hostility in South Korea, where he's accused of being a key figure in the 2010 sinking of the South Korean naval corvette Cheonan.
North Korea vehemently denies any involvement in the torpedoing of the ship, in which 46 sailors died.
He was also reported to be involved in the 2014 Sony hack in response to the comedy film The Interview, which went to great lengths to insult Kim Jong-un.
Gen Kim's alleged role in past events led to protests from conservative forces in South Korea before the Winter Olympics when it emerged he would visit.
"We absolutely oppose a visit to the South by Kim Yong-chol, the main culprit of the Cheonan's sinking," said Kim Sung-tae, floor leader of the opposition Liberty Korea Party. The party's statement also said that Kim Yong-chol deserved "death by beating" and called on the government to block the visit.
However, South Korea's Unification Minister Cho Myoung-gyon stated that, in the name of the relaxing of tensions between North and South, there would be no restrictions on General Kim's travel to the Olympics.
He has since stood on South Korean soil for a second time, crossing the border with Kim Jong-un as part of the Inter-Korean Summit delegation.
Now his travel restrictions seem to have been further relaxed amid efforts to organise the Kim-Trump Summit in Singapore.
BBC Monitoring reports and analyses news from TV, radio, web and print media around the world. You can follow BBC Monitoring on Twitter and Facebook.