Pakistan investigates Bahria College exam groping allegations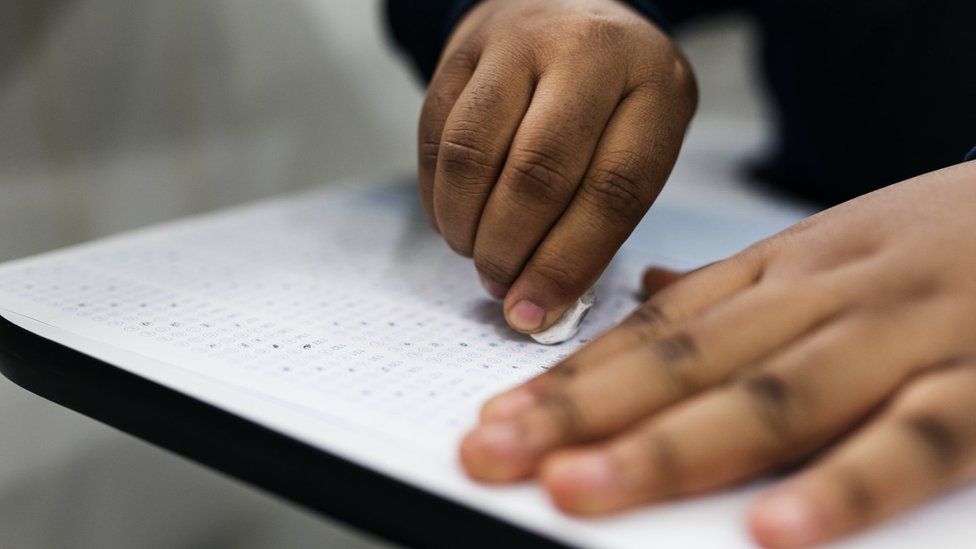 Pakistan's education department has launched an investigation against an examiner accused of groping several students during their biology exam.
Teenagers at one of Islamabad's top schools have accused Sadat Bashir of harassing dozens of students during their final practical exams last week.
One student alleged he touched her buttocks and traced her bra strap, and threatened to deduct marks, in a social media post that has gone viral.
Mr Bashir has denied the allegations.
The female students were taking part in practical biology exams, in their final year at Bahria College.
In a Facebook post, one student wrote that Mr Bashir, an invigilator sent by a government examination board, made "sleazy comments" and groped her twice while she was working.
Another student told the BBC: "I saw him touch my classmates."
She added that she and her classmates were "very frightened", and told a member of staff, but were told to "keep quiet" for the meantime to avoid any risk to their grades.
A third student posted what she said were testimonies from several other classmates who were afraid to speak out publicly.
The alleged incident took place at one of Pakistan's most reputable schools - a military school primarily designated for children of navy personnel - and has generated a huge discussion about sexual harassment and the power examiners have over students.
Mr Bashir denied the accusations. He told the BBC: "These allegations are baseless and I am facing all this because I had not given them extra marks and I was strict."
Bahria College did not immediately respond to BBC requests for comment, but is reported to have submitted a formal complaint to the examination board.
Pakistan's Federal Directorate of Education says it has formed an inquiry committee to investigate the claims, and will issue its findings next week.
The story has become one of the top trends on social media in Pakistan, with many people expressing support for the students, and referencing the #MeToo and #TimesUp campaigns against sexual harassment.
More than 20,000 people have signed a petition calling for action to be taken against the examiner.