Donald Trump prefers unscripted Kim summit in Singapore to G7 ritual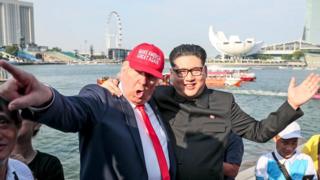 The politics of the old and the politics of the new clashed exquisitely this weekend.
In Quebec at the G7 (the traditional way of doing things) the sherpas, political advisers and draftsmen toiled through two nights to find a form of words that all sides could sign up to.
I left before the end of the summit to embark on a marathon journey from Canada to Singapore.
When I left Quebec all the talk was there would be no agreement. But lo, by the time I landed in Hong Kong to change flights I read that there was a joint communique. Success. Only to see a tweet from Donald Trump a little later rescinding his signature over something Justin Trudeau had said at his news conference. Unbelievable.
In Singapore, from everything I've heard this will not be the modus operandi. This is the new politics, and is much more to Mr Trump's liking.
Winging it
For a start it's not multilateral (something this president is allergic to). It is bilateral. Mano a mano. Tête à tête. Eyeball to eyeball. Kim and Donald. And maybe a translator.
Those schooled in old politics would say you can't do that. You need officials with sheaves of briefing documents, filled with lines to take, folders full of tabs and pink highlighter.
It will all have been hammered out on an inter-agency basis, weeks beforehand. The draft text agreed between officials before the two leaders even clap eyes on each other.
And you certainly don't leave Chairman Kim and President Trump alone in the room together. ALONE? No way.
You may remember the horrified reaction of Richard Gere's lawyer in Pretty Woman when he sent him out of the room so that the Gere character, Edward Lucas, could negotiate face to face with the old boy whose firm he was planning to buy and asset strip (maybe I've seen that movie too many times...) Well imagine that and multiply it by 1,000.
No pushovers
But dare I say it, conventional politics would not have got us to the point where we are now. We are where we are because Mr Trump has taken a sword and sliced his way through conventional diplomatic behaviour.
Kim Jong-un extended an invitation. Within 45 minutes of receiving it, the US president had accepted.
I'm sure there will be lawyers aplenty on standby somewhere to pore over a text. And sherpas. And advisers. But my bet is they will be kicking their heels. At least this time round.
I sat in the West Wing office of a senior aide to the president just before leaving Washington. This person said the talks might last five minutes. They might last two days. It all depended on how they got on.
These were two incredibly strong-minded individuals who won't be pushed around by officials, I was told. In other words, expect the unexpected. Always.
President Trump has said it normally takes him about five seconds to figure out whether they will get along. You can imagine the drumming of fingers in anterooms as officials wait to be told if there will be peace in our time, or whether it's all fallen apart and we're heading for the airport.
Summitry theatre
The president has also said he hasn't prepped much for these talks. There was no need to.
And yet denuclearisation of the Korean peninsula, how to define it, what verification might look like, over what timescale it should unfold, in return for what level of US economic aid and security guarantees and the lifting of what sanctions - and, and, and - is pretty head-scratching, complex stuff.
This is not a flippant point, but an area where a lot of thought has gone is in what it will all look like. There have been detailed briefings about where the two men will first meet, what the camera positions will be, what the backdrop will look like. The interior shots. The exterior shots.
Mr Trump loves the theatre and, from his time on The Apprentice understands visuals. So might this be just a glorified photo op? No. It's extraordinary. It's historic (and yes that is a word that can be overused). It's amazing.
Last September all the talk was of whether there would be a nuclear war. Now the talk is of peace. Sure, this maybe just the start of what might be a long and fraught journey. But it's a start.
And would conventional politics have even taken us this far? The only sane reaction is to hope they both get along.