American Will Nguyen held in Vietnam after protests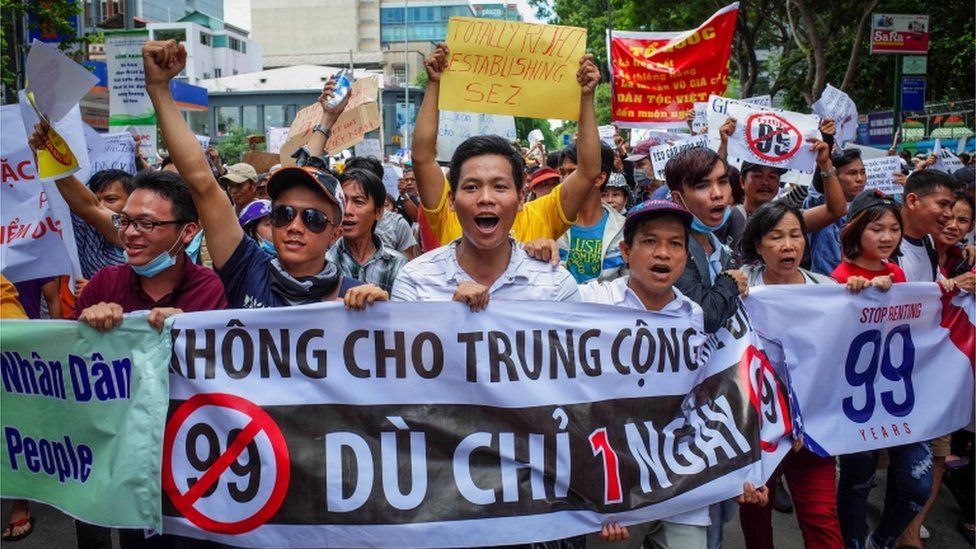 An American is being held for "disrupting public order" in Vietnam after joining recent economic protests.
Will Nguyen, 32, was detained on Sunday in Ho Chi Minh City during demonstrations against new economic zones in the country.
Protesters believe the law is a means to grant Chinese companies lengthy leases on Vietnamese land.
Foreign ministry spokesperson Le Thi Thu Hang told reporters a consular visit is being arranged.
In another post, Mr Nguyen wrote about "how enormous of an achievement" the demonstrations are for the Vietnamese people.
I can't stress how enormous of an achievement this is for the #Vietnamese people. The communist government is allowing people to assemble peacefully and the people are exercising their civic duty to protest injustice. #Vietnam #Phandoidackhu

— Will Nguyen (阮英惟) (@will_nguyen_) June 10, 2018
The student, who is set to receive a master's degree in Singapore next month, was visiting Vietnam when he began documenting the demonstrations.
According to his family and friends, Mr Nguyen was "beaten over the head and dragged into the back of a police truck".
He was then taken to a police station, but his current location is unknown.
Officers reportedly turned up at his Airbnb rented flat two days later to confiscate his belongings, including his laptop, passport and credit cards.
The proposed economic law would give foreign investors 99-year leases on land in three designated special economic zones across the country.
Protesters believe the bill would allow Chinese companies to get a hold on Vietnamese land.
Some of the protests have been explicitly anti-Chinese, with one banner reading: "No leasing land to China even for one day."
Vietnam contests Chinese control of a number of islands in the South China Sea, and the two countries fought a brief border war less than 40 years ago.
Prime Minister Nguyen Xuan Phuc last week told local media the 99-year term would be reduced, although he did not specify the new length.
The government also said a vote on the draft bill would be delayed to allow further scrutiny, with parliament chairwoman Nguyen Thi Kim Ngan saying people's opinions "will always be heard".
There were previously protests in Vietnam in 2014, which saw Chinese citizens fled the country in their thousands after violence targeting foreign-owned businesses.