Kim Jong-un visits China after Trump summit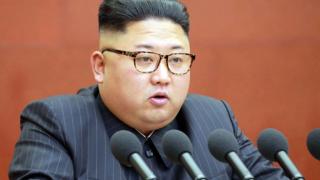 North Korea's Kim Jong-un has met Chinese leader Xi Jinping in Beijing, local media report, a week after meeting US President Donald Trump.
Chinese state TV did not say what the two leaders had talked about.
However they were expected to discuss sanctions and Mr Kim's general commitment to denuclearise the Korean peninsula.
Beijing, North Korea's only economic ally, has already suggested sanctions against North Korea could be eased.
Meanwhile, the US and South Korea have confirmed they have suspended planning for their next joint military drills.
That follows a pledge made by Mr Trump at the Singapore summit.
The visit to China is Mr Kim's third since March, when his first trip abroad since taking office was to meet President Xi Jinping.
His latest visit was, unusually, reported by Chinese state media.
State TV showed Mr Xi hosting Mr Kim at the Great Hall of the People with a military honour guard.
On 12 June, Mr Trump and Mr Kim signed what the US president called a "comprehensive" agreement.
North Korea agreed to denuclearisation - something it had also committed to in talks with South Korea - while Mr Trump said the US would end its joint military exercises with South Korea.
Ending the war games had been a long-standing demand of both North Korea and China.
But both South Korea and Japan - the other main US ally in Asia - said the joint drills were very important.
Mr Trump's announcement appeared to catch South Korea off guard and there was confusion as to how it would be implemented.
There was also confusion over Mr Trump calling the drills "provocative", a term hitherto used by North Korea to describe them. The US had always insisted they were purely defensive in nature.
There are about 29,000 US soldiers based in South Korea and each year the two countries regularly conduct large-scale military drills.
The next exercise was scheduled for August with some 17,500 US military personnel due to take part.
Officials in Washington and Seoul confirmed on Tuesday that planning for that drill had been suspended.
"South Korea and the US plan to continue discussions for further measures," South Korea's defence ministry said, adding, "No decisions have been reached for other ensuing drills."
White House spokeswoman Sarah Sanders earlier told reporters that "as long as the North Koreans continue to act in good faith, as we saw in Singapore, then we expect those things to be on pause at this point".