Jacinda Ardern baby: New Zealand PM gives birth to girl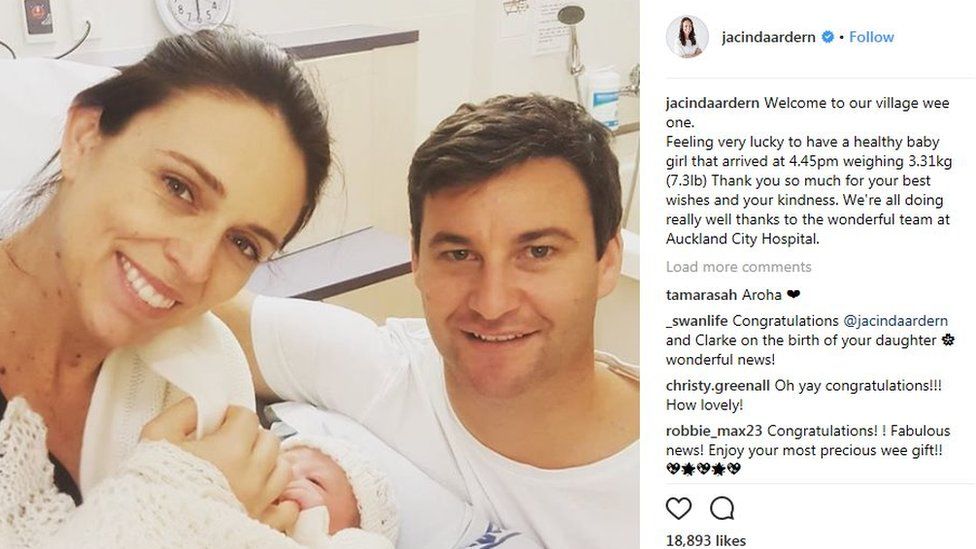 New Zealand's Prime Minister Jacinda Ardern has given birth to her first child, a girl weighing 3.31kg (7.3lb).
This makes her only the second elected leader in modern history to give birth while in office.
Ms Ardern was admitted to a hospital in the city of Auckland early on Thursday morning, four days after her due date.
The 37-year-old has passed on her duties to Deputy Prime Minister Winston Peters while she takes six weeks of maternity leave.
However, she said she would be consulted on significant issues and would continue to read cabinet papers during her time away.
The baby was born at 16:45 (04:45 GMT). Ms Ardern later broke news of the birth on social media, saying she felt very lucky and thanking staff at the hospital.
In a statement, she also said: "I'm sure we're going through all of the emotions new parents go through, but at the same time feeling so grateful for all the kindness and best wishes from so many people. Thank you."
Congratulations from fellow politicians started pouring in from around the region, including from former New Zealand Prime Minister Helen Clark.
Jacinda Ardern arrived at hospital in her own car, with Clarke driving. No Crown limo or special ambulance. Her baby was delivered in a public hospital alongside everyone else's. No private hospital. No extra special attention.

New Zealand, remain your understated self.

— Morgan Godfery (@MorganGodfery) June 21, 2018
Ms Ardern, who was elected in October, announced in January that she and her partner Clarke Gayford were expecting a baby.
"I am not the first woman to multitask," she had said earlier this year in an interview with Radio New Zealand. "I am not the first woman to work and have a baby; there are many women who have done this before."
She is the youngest prime minister the country has had since 1856.
In 1990, the late Benazir Bhutto gave birth to a daughter while serving as Pakistan's prime minister, a first for an elected world leader. Incidentally, Ms Ardern's baby was born on what would have been Ms Bhutto's birthday.
Bhutto's very private maternity
M Ilyas Khan, BBC News, Islamabad
When Ms Bhutto gave birth to a baby girl in January 1990, a military-funded right-wing alliance was tightening its siege of her government.
So she never publicly declared her pregnancy and did not proceed with maternity leave. In fact, she had a quick Caesarian section performed by her gynaecologist and returned to work soon afterwards.
Months later, her government was sacked by a president who then had discretionary powers to send an elected government home.
Her other two children were born in similar conditions - in secrecy and through Caesarian section - establishing her as a woman who could handle maternity while simultaneously fighting a fierce battle for democracy.