Authorities search for football team trapped in Thai cave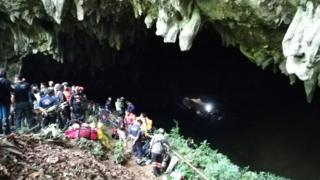 Rescuers are searching for 12 members of a youth football team thought to be trapped in a cave in northern Thailand.
Authorities believe the boys, aged between 11 and 16, and their coach entered the Tham Luang Nang Non cave in Chiang Rai province on Saturday.
They were apparently trapped when heavy rain flooded a stream at the cave entrance, but a local official said he believed they were still alive.
The cave is a tourist attraction which runs for many kilometres underground.
According to the Bangkok Post newspaper, visitors must cross a small stream to enter Tham Luang Nang Non, making it inaccessible if the stream floods.
Police Colonel Komsan Saardluan told AP news agency that the cave can flood up to 5m (16ft) during Thailand's rainy season, which runs from June to October.
The group of teenagers and their 25-year-old coach are believed to have entered the cave on Saturday afternoon.
Rescue workers began searching for them on Saturday night after they were reported missing. They found bicycles along with sports equipment outside the cave.
Defence Minister General Prawit Wongsuwan said divers from the Royal Thai Navy reached the cave on Monday.
Later, local TV quoted the province's deputy governor, Pasakorn Boonyalak, as saying he was confident the 13 were still alive after the divers found foot and hand prints on dry ground inside the cave in an area not reached by the water.
Rescue teams were preparing to train the team to use scuba gear, in case they had to dive out through areas of the cave which were completely submerged, he added.
Mr Pasakorn said helicopters had dropped food and water into a tunnel which residents of a village said gave access to the cave system, as well as handwritten notes instructing the group to wait for the rescuers, who would try to get to them there.