Ronald dela Rosa: 'The Rock' behind Duterte's drugs war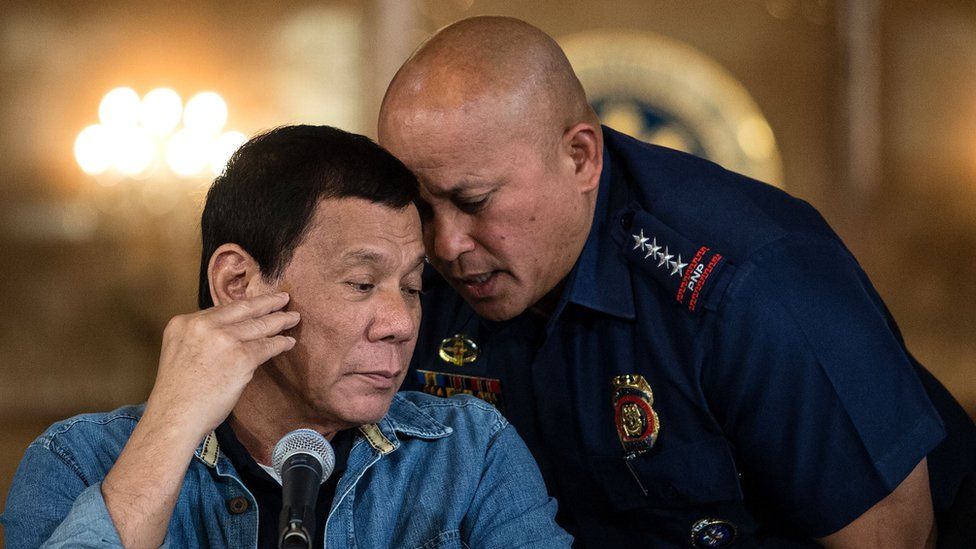 It might have fallen away from international headlines, but state-sanctioned drug war killings continue in the Philippines. As the former chief of police tells the BBC's Howard Johnson in Manila, it's provided a cover for anyone wanting to kill with impunity.
Since the Philippine government launched its all-out campaign on drugs in July 2016, it says more than 4,000 suspected drug users and dealers have died in police operations.
Urged on by President Rodrigo Duterte, the police swept through predominantly poor communities targeting suspects on "drug lists" compiled by local community leaders.
Nightly images of bloodied bodies splayed across roads and alleyways were broadcast around the world.
Rights groups now put the number of dead at more than 12,000. They say many of the killings, including those by vigilantes, were extra-judicial and therefore illegal.
The police argue that all of the killings were made in self-defence after the suspects resisted arrest.
The man behind the campaign, the then Chief of the Philippine National Police (PNP) General Ronald dela Rosa, told the BBC the campaign had not been "perfect", but that he was "proud" of his record.
"I can say we attacked the problem head-on," he said when we met in Manila. "We did not shy away from the problem. The drug problem is very, very big in the Philippines."
Nicknamed The Rock, Gen dela Rosa was widely considered the chief enforcer of Mr Duterte's punitive anti-drug campaign.
The two men had worked closely together before, when Mr Duterte was mayor of Davao city.
As the city's police chief between 2012 and 2013 Mr dela Rosa implemented his "Oplan Tokhang" - "knock and plead" - anti-drug campaign that saw police officers scour neighbourhoods to apprehend suspected drug dealers and users.
In July 2016, shortly after Rodrigo Duterte became president, Gen dela Rosa was appointed director general of the PNP. He went on to apply the same strategy - deploying undercover stings known as "buy-bust" operations - on a national scale.
So was he given a shoot-to-kill mandate?
"No, I would like to make it clear to the whole world," said Gen dela Rosa.
"President Duterte did not give me an order to to kill. Anyone. He just told our policemen that if your life is in danger you have to protect yourself so it's better that the criminals are killed rather than you."
At the start of the drug war President Duterte was widely criticised by the international community for a number of statements that appeared to encourage the police to kill with impunity.
In September 2016 he said: "If [drug suspects] pull out a gun, kill them. If they don't, kill them still, son of a whore, so it's over, lest you lose the gun. I'll take care of you."
This was just hyperbole, said Gen dela Rosa, designed to put fear into the minds of criminals.
Pushed on whether it is responsible for a head of state to make such statements Gen dela Rosa said there had always been "some unexplained killings" in the Philippines, so "why attribute that to the language of the president?"
But he did admit that the war on drugs provided the perfect cover for hit men, who could kill without fear of being investigated.
Paid killers could kill someone in public, then place a cardboard sign on the body alleging involvement in drugs to cover up the true motive behind their killing. That way, the community "will not be so hot on the solution of the case" he said.
Carlos Conde of the campaign group Human Rights Watch said that while it "may be true that criminals are taking advantage of the 'drug war', that's a lame explanation for the thousands of deaths encouraged and enabled by the government from the top down".
"There are credible accounts by witnesses and families of victims, by human rights groups and even media, of police actions that indicate the killings are government policy.
"But even if we just zero in on the more than 4,200 who died during police operations because they allegedly fought back - that claim begs for an investigation."
From the streets to the prison
Nevertheless, Ronald dela Rosa is popular in the Philippines. He regularly appears on Filipino TV shows and enjoys posing for photos with the public. He even featured in a controversial iPhone game that shows him and Mr Duterte shooting criminals. The game was later removed from the Apple app store.
He became a household name in the Philippines after he cried during a senate hearing into the death of a provincial mayor while in police custody over alleged illegal drug possession.
Fighting back tears, he told senators he couldn't blame the public for losing trust and confidence in the police because he himself no longer knew "whom to trust".
Under his watch the war on drugs was temporarily suspended twice because of miscarriages of justice.
In October 2016 a South Korean businessman was kidnapped and murdered by officers at the national police headquarters in Manila under the pretence of a drug-war arrest.
The PNP resumed control of the drug war in November 2017, but a few months later Gen dela Rosa was moved from PNP police chief to become the director general of the Bureau of Corrections.
As the head of prisons, he has made it his goal to wipe out the drug trade inside the country's main detention centre, New Bilibid Prison, home to many of the country's top drug lords.
According to Gen dela Rosa, past inspections revealed inmates were "living like kings" - some cells were furnished with "jacuzzis" and "recording studios".
"They can't do it any more," said Gen dela Rosa "On the very first day in office I told them: 'Right here, right now, I'm the boss. You're not the boss'."
Then, referencing the Netflix series Narcos, in which Colombian drug lord Pablo Escobar controlled a prison nicknamed The Cathedral, Mr dela Rosa added: "Bilibid is not your cathedral any more."
'We're not hiding anything'
But Gen dela Rosa said he would welcome ICC investigators.
"We're not hiding anything. We are open," he insisted.
"What is difficult is if they are just hearing reports coming from the anti-Duterte critics who are bringing those reports to them. Then they will be blinded by false reports or 'fake news'."
Such is Gen dela Rosa's popularity many are tipping him to run for senator in 2019. Recent opinion polls suggest he would stand a good chance of being elected if he were to stand.
But he says he is waiting for the approval of President Duterte before he makes a decision to enter politics. If he gets the green light, he said he would campaign to introduce the death penalty for drug offenders and to bring in a nationwide ID card system.
Asked if he had aspirations of becoming president himself one day he said: "I'll leave that to God. Destiny, destiny. My becoming the chief of the PNP is destiny already."