Philippine mayor Antonio Halili shot dead at ceremony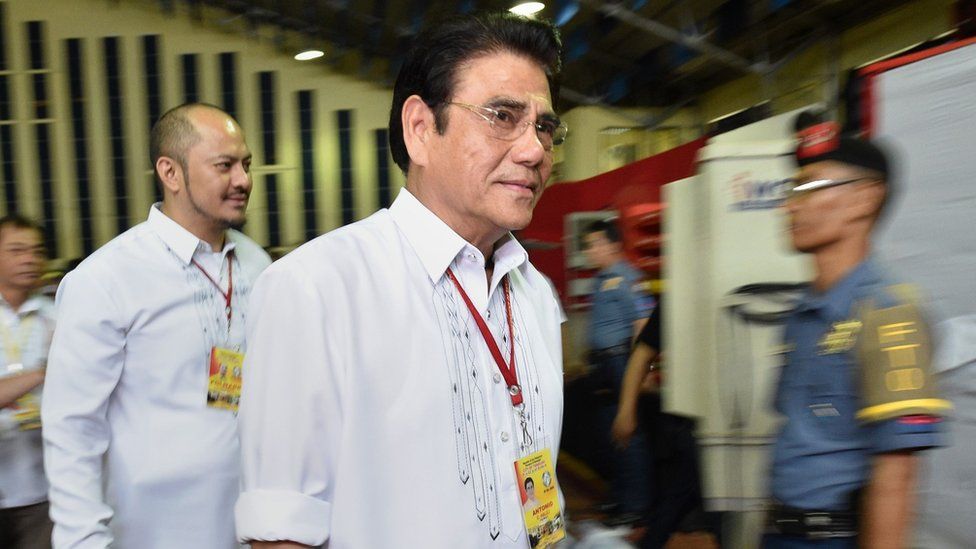 A controversial mayor in the Philippines has been shot dead during a flag-raising ceremony.
Antonio Halili was shot in the chest as he sang the national anthem outside the town hall of Tanauan, south of Manila.
Footage showed bystanders screaming and running away after the shooting.
Mr Halili, who paraded drug suspects through the streets, was known for his hardline position on drugs. But he was also accused of protecting drug traffickers - something he denied.
The shooter was able to escape, and no suspects have been identified yet.
Local police chief Renato Mercado told AFP the shooter had opened fire from about 150m (490ft) away.
"The distance from the position was extraordinary. It could not be done by an ordinary person. His skill can be compared to a trained sniper," he said.
Mr Halili attracted international attention two years ago, after he forced drug suspects to walk through the streets with signs of their alleged crimes, in what was described as a "walk of shame".
But last year, his power over local police was curtailed after the government accused him of links to the illegal drugs trade.
Since the Philippine government launched its all-out campaign on drugs in July 2016, it says more than 4,000 suspected drug users and dealers have died in police operations.
The police argue that all of the killings were made in self-defence after the suspects resisted arrest.
Rights groups say more than 12,000 have died in the drug war, and that many of the killings, including those by vigilantes, were extra-judicial.