North Korea: US is making 'gangster-like' demands on denuclearisation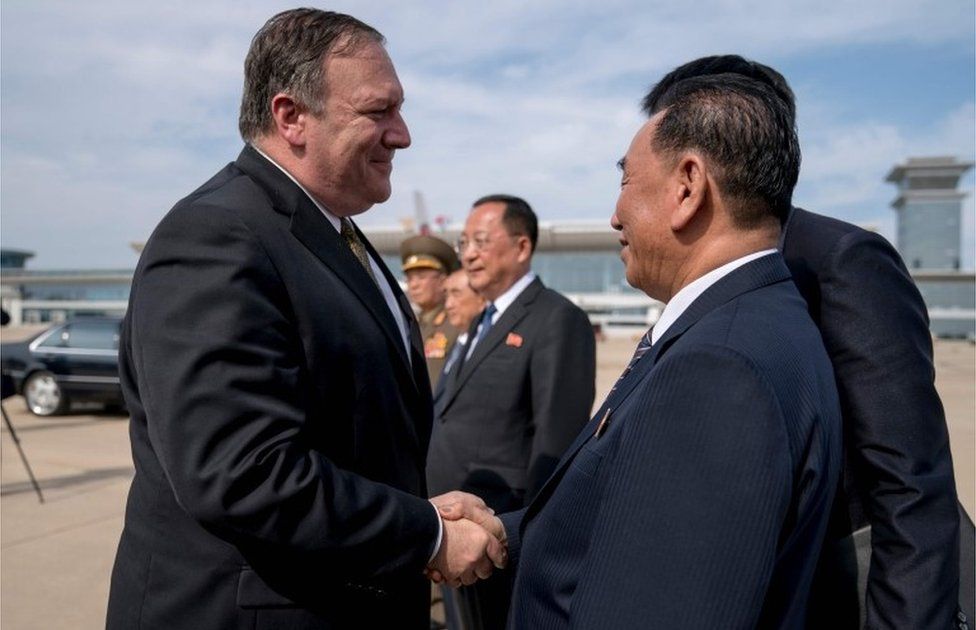 North Korea has accused the US of using "gangster-like" tactics to push it towards nuclear disarmament after a fresh round of high-level talks.
It branded the US attitude at the meeting as "extremely troubling".
The statement, by an unnamed foreign ministry official, gave a starkly different account from one provided by US Secretary of State Mike Pompeo just hours before.
He had said progress was made during his two-day visit to Pyongyang.
It is the first time he has visited North Korea since a summit between Donald Trump and Kim Jong-un in Singapore.
The leader's meeting ended with a promise from Mr Kim to work towards denuclearisation, but details on how this will be achieved remain thin.
A key aim of Mr Pompeo during his visit was to firm up North Korea's commitment to disarmament.
But the North Korean statement, carried by the official KCNA news agency, said the US had gone against the spirit of the summit by putting unilateral pressure on the country to abandon its nuclear weapons.
"We had anticipated the US side would come with a constructive idea, thinking we would take something in return," the North Korean statement said, warning its "resolve for denuclearisation... may falter".
"The US is fatally mistaken if it went to the extent of regarding that [North Korea] would be compelled to accept, out of its patience, demands reflecting its gangster-like mindset," it added.
At the talks, Mr Pompeo did not meet with Mr Kim, but instead with Kim Yong-chol, who is seen as his right-hand man.
In his assessment Mr Pompeo gave little away, but he said they had discussed at length a timeline for disarmament, including the destruction of a missile engine testing facility.
"These are complicated issues, but we made progress on almost all of the central issues, some places a great deal of progress, other places there's still more work to be done," he said.
After the Singapore summit, which also saw the US offer "security guarantees" to North Korea and promise to end its military drills with South Korea, Mr Trump claimed that the North no longer posed a nuclear threat.
A state department spokesperson said Mr Pompeo had been "very firm" in focusing on denuclearisation, as well as on security assurances and another important US demand - the return of remains of US service personnel from the Korean War.
As Saturday's meeting got under way Kim Yong-chol joked that Mr Pompeo may not have slept well during his overnight stay at a guesthouse in Pyongyang. Mr Pompeo said he "slept just fine".
On Sunday, the US secretary of state will meet the foreign ministers of Japan and South Korea in Tokyo.