South Korean women protest in Seoul over hidden sex cameras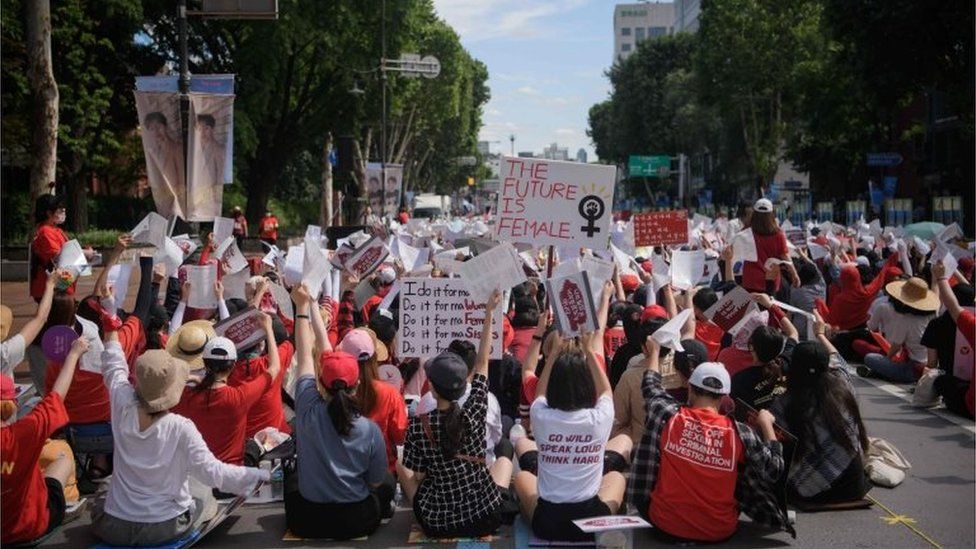 Tens of thousands of women gathered in Seoul on Saturday calling for a crackdown on spy cam pornography, in one of the country's biggest ever female-only protests.
Perpetrators film or photograph women with hidden cameras in public spaces.
Although distributing pornography is illegal in South Korea, the videos and pictures are shared widely online.
Organisers say women live in constant fear of being photographed or filmed without their knowledge.
Carrying placards and banners with messages like "My life is not your porn", the women were mostly teenagers or in their 20s - seen as the main victims of the hidden cameras.
"Those men who film such videos! Those who upload them! Those who watch them! All of them should be punished sternly!" they chanted.
The women covered their faces with masks, hats and sunglasses as instructed by the organisers.
Demonstrators said around 55,000 women took part, although police put the figure at around 20,000.
The recent protests began after police arrested a 25-year-old woman in May for secretly photographing a male colleague who posed nude for university art students. She then shared the picture online.
Demonstrators believe police only acted so swiftly because it was a female perpetrator, and pointed to instances of police closing cases with female victims because they could not find the photographers or track them online, because they posted on foreign servers.
While the law mandates a maximum five-year prison term or 10 million won ($8,970; £6,770) fine for creating sexual images, and a maximum seven year sentence and 30 million won ($26,900; £20,200) fine for distributing them for profit, protesters say many receive far lighter punishments.
South Korea has struggled to contain a rise in the crime in recent years.
The number of hidden camera crimes rose from 1,100 in 2010 to more than 6,500 in 2017.
Since 2004, the country has mandated that all smart phones should make loud shutter noises when they take a photo or video to make people aware of their use.
But apps can be used to silence the noise, and perpetrators are also using miniature cameras hidden in walls, bags, shoes or toilets.
President Moon Jae-in said the crime had become "part of daily life".
Last week he reportedly told a cabinet meeting that offenders should "suffer greater damage than the damage they inflict", urging officials to look for stronger punishments such as notifying employers of any perpetrators on staff.