Japan flood: At least 179 dead after worst weather in decades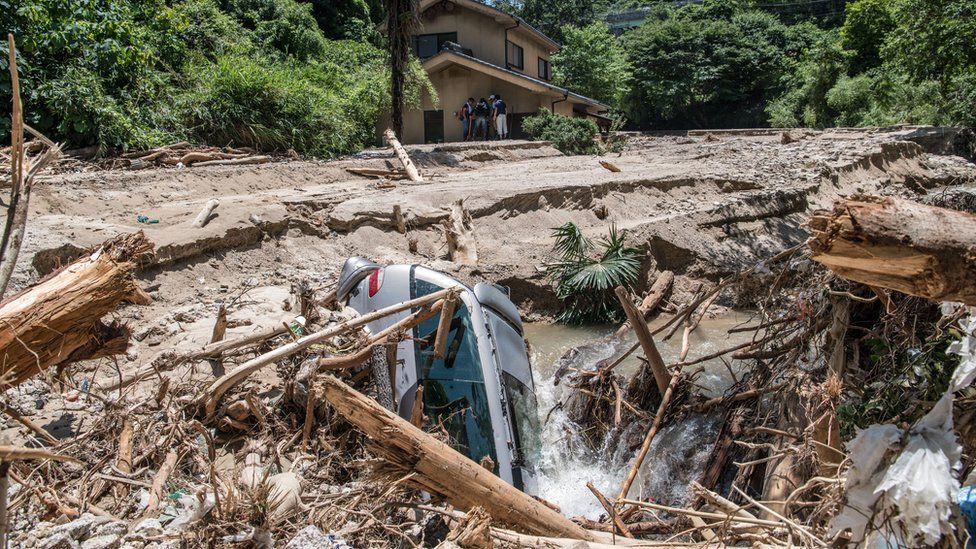 Japan is still reeling from one of its worst flooding disasters in decades, which has killed at least 179 people and left 70 missing.
Torrential rains triggered landslides and floods in central and western areas. More than 8 million people have been ordered to evacuate their homes.
The rain has relented but the country is still struggling to deal with the extensive damage left in its wake.
This is the highest death toll caused by rainfall in Japan since 1982.
'Our memories are all gone'
Some 270,000 households across the country have had their water supplies cut, and thousands of other homes remain without electricity.
The prefectures of Okayama, Hiroshima and Yamaguchi were the hardest hit, with pictures showing extensive damage especially in Okayama.
"People believe Okayama is very safe, nobody thought that [a disaster] would happen to this city," Yusuke Fujii, who lives in Osaka but travelled to Okayama to visit his grandmother, told the BBC.
"Food is in short supply. We have to eat instant ramen because the supermarkets don't have much food. We can't get much information about flooded roads, evacuation centre and where to get food," said the 24-year-old, who is still in Okayama.
Some 8.63m people across 23 prefectures have been ordered to evacuate. Thousands are currently living in temporary shelter in school halls and gymnasiums.
About 300 people spent the night at the Okada Elementary School in Okayama prefecture, with many of them sleeping on blue mats in the school's gym.
One family sleeping there has had to send their young daughter away to live with relatives, after she became so distressed by the evacuation that she stopped eating.
The couple returned to their home on Monday to see what they could salvage, only to find their entire ground floor submerged.
"We can accept losing things like home appliances, but... it hurts that our memories are all gone," said Hiroko Fukuda.
Other stories of personal difficulty have also emerged.
Two sisters, aged nine and six, who attended an elementary school with just six students on the small island of Nuwa, have died after the landslide swept away their home early on Saturday.
A three-year-old whose home was hit by a landslide in Hiroshima has also died, according to a Reuters report.
There was one brighter piece of news when it emerged that a miniature horse had survived three days stranded on a roof before being rescued by aid workers when flood waters receded.
Pictures of Leaf, a pet at an old people's home in the town of Kurashiki in Okayama, had captured hearts around the country.
Sadly, her young colt, Earth, is missing and is not thought to have survived the floods.
More than 70,000 rescue workers, including the fire service and the army, are currently involved in relief efforts.
Japan's meteorological agency has warned that fresh landslides may still occur, urging people to remain on guard.
Prime Minister Shinzo Abe has cancelled an overseas trip to deal with the flood crisis. Mr Abe is currently in Okayama inspecting the extent of the damage.
But he has now come in under fire, after photos posted on Twitter showed him at a party with lawmakers just as rains intensified.
The BBC is not responsible for the content of external sites.
Skip twitter post by 片山さつき
Allow Twitter content?
This article contains content provided by Twitter. We ask for your permission before anything is loaded, as they may be using cookies and other technologies. You may want to read Twitter's cookie policy, external and privacy policy, external before accepting. To view this content choose 'accept and continue'.
The BBC is not responsible for the content of external sites.
End of twitter post by 片山さつき
Many social media users have criticised their actions.
"Has he read the news and heard about the rains and landslides?" one user asked on Twitter. "Is the word refrain in his dictionary?"
"They're inside safe and drinking, when others are outside struggling. Senators, I thought you'd care more for your people," another added.