Raza Khan: Pakistani activist missing for seven months returns home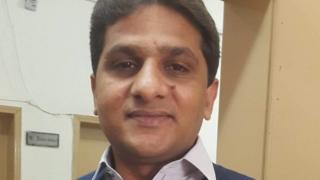 A Pakistani activist who went missing seven months ago has returned to his home in Lahore, his friends say.
Raza Khan was picked up from his residence in the northern city by unidentified men last December.
On the day of his disappearance, he posted comments on Facebook criticising the Pakistani military and its suspected links to Islamist hardliners.
The circumstances behind his release are not clear and his family will not disclose details amid security fears.
On Friday, a friend of Mr Khan confirmed the activist's safe return following reports from officials that he had been "recovered" 10 days ago.
The police have not yet commented on the reports.
Mr Khan was taken from his home on 2 December 2017, the same day that he helped organise a small public event in Lahore that discussed a controversial protest by a hardline religious group.
That protest, which accused a government minister of committing blasphemy, had caused mass disruption in the capital Islamabad, and turned violent when police attempted to intervene.
A spate of kidnappings
Mr Khan's case is part of a spate of similar kidnappings involving activists.
Last month Pakistani journalist Gul Bukhari, who has openly criticised the military, was kidnapped by masked men in Lahore but freed hours later.
She had been on her way to work when she was stopped late at night in the city's army-controlled cantonment area.
A colleague said men in "army uniforms" were present at the abduction, along with others in plain clothes.
Four activists critical of the army went missing last year but reappeared after a month. Two of them later said Pakistani military agents abducted and tortured them. The military has denied the accusations.
Human rights groups have accused Pakistan's powerful military of trying to silence its critics.
Some who have been abducted have later described being tortured by the state. Some do not want to name their kidnappers.
One prominent reporter, Taha Siddiqui, had a close shave in January when he managed to flee armed abductors in Islamabad.