Bangladesh cafe siege: Briton Hasnat Karim to be freed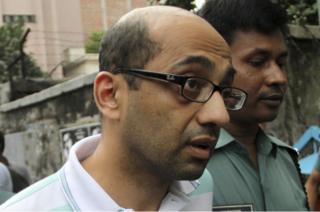 A British man detained in Bangladesh following a deadly cafe siege two years ago is to be released from custody.
Hasnat Karim was celebrating his daughter's 13th birthday at the Holey Artisan cafe in Dhaka in July 2016 when it was targeted by Islamist militants.
Police said an investigation had cleared him of any involvement in the attack.
Twenty-two people, mostly foreigners, were killed during the 12-hour siege, Bangladesh's deadliest terror attack.
Eight other suspects have been charged.
Mr Karim, who is in his late 40s and has dual British-Bangladeshi citizenship, was taken hostage when gunmen stormed the cafe.
Witnesses at the time said he became a police suspect because he agreed to become a human shield during the siege.
Human rights group Amnesty International had campaigned for Mr Karim's release.
The head of the police's counterterrorism and transnational crime unit, Monirul Islam, said Mr Karim faced no charges in connection with the attack.
"None of those arrested alive named Hasnat Karim. His involvement was not found during any stage of the investigation. That's why we have not included his name in the charge sheet," Mr Islam was quoted as saying by news site bdnews24.com.
Mr Karim's wife told BBC Bengali on Tuesday that he had yet to be released.
The attack was claimed by the Islamic State group, although Bangladesh disputed this and said a local militant group was responsible.
Five militants inside the cafe were killed by police. Eight others have now been charged over their involvement, six of whom are in custody, according to Mr Islam.