Japan heatwave declared natural disaster as death toll mounts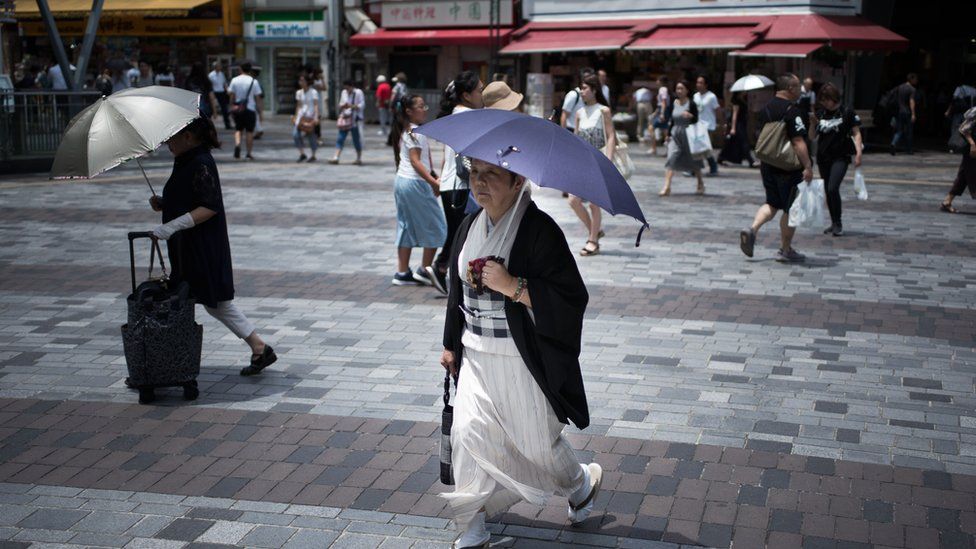 Japan's weather agency has declared a heatwave sweeping the country a natural disaster, with at least 65 deaths recorded in the past week.
An agency spokesman warned that "unprecedented levels of heat" were being seen in some areas.
More than 22,000 people have been taken to hospital with heat stroke, nearly half of them elderly, officials say.
On Monday, the city of Kumagaya reported a temperature of 41.1C (106F), the highest ever recorded in Japan.
The heatwave shows no sign of abating, forecasters say.
In central Tokyo, temperatures over 40C were also registered for the first time.
The Japan Meteorological Agency warned that temperatures of 35C or higher would continue until early August.
"We are observing unprecedented levels of heat in some areas," spokesman Motoaki Takekawa said, adding that the heatwave was "a threat to life and we recognise it as a natural disaster".
In Ibaraki prefecture, north of Tokyo, a 91-year-old woman was found collapsed in a field and later pronounced dead in hospital. In nearby Saitama two elderly women were found dead in their homes.
With less than half of Japan's public schools equipped with air conditioning, government spokesman Yoshihide Suga said the summer holidays could be extended to protect pupils.
"As a record heatwave continues to blanket the country, urgent measures are required to protect the lives of schoolchildren," he told a news conference on Tuesday.
The public is being advised to drink plenty of water, to use air conditioning and to rest often.
People in some cities have taken part in an event known as uchimizu, or "water ceremony" - pouring or sprinkling cold water on to the hot pavements in an attempt to cool them.
The heatwave closely followed torrential rain that caused severe flooding and landslides in the west of Japan.
Where else has experienced severe heat?