Lombok earthquake: Trapped hikers descend quake-hit Mount Rinjani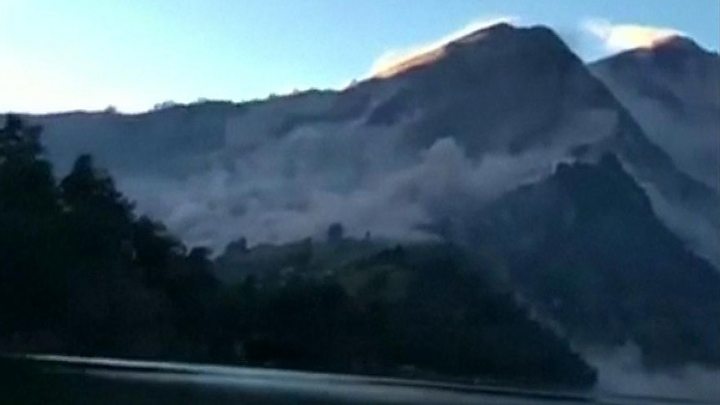 Hundreds of hikers have been making their way down after spending a night trapped on an Indonesian volcano following an earthquake.
The 6.4 magnitude quake struck early on Sunday near Mount Rinjani on Lombok island, triggering landslides that cut off escape routes.
At least 16 people died and more than 330 were injured.
Rescue officials said many of the mostly foreign hikers were unlikely to reach the bottom before nightfall.
What is the situation on Mount Rinjani?
The national park authority said on Monday that a key route to the peak had been cleared and a helicopter was dropping supplies to hikers still on the slopes.
Rescue official Agus Hendra Sanjaya told AFP news agency that the hikers were believed to have enough supplies to last "another one to two days".
Sutopo Purwo Nugroho, from the national disaster mitigation agency, said that when the quake struck there had been as many as 820 people on Mount Rinjani.
Among the foreigners climbing the volcano were 337 Thai tourists, with French, Dutch and Spanish making up the next-largest contingents.
The volcano, which rises 3,726m (12,224ft) above sea level and is the second-highest volcano in the country, is a favourite among sightseers.
What happened when the quake struck?
A Malaysian tourist on a hiking trip to Mount Rinjani was among those killed. Another young Indonesian hiker was also killed by falling rocks.
US tourist John Robyn Buenavista described seeing people pinned to the ground by fallen debris.
"At one point, I saw people with half of their bodies stuck in the rocks and I just couldn't move. I felt paralysed and stopped moving. The guides were screaming, 'Don't die, don't die'," he told Reuters.
"One of the guides had to shake me and take me by the hand. He told me that I had to go, and that they would be OK."
A group of Malaysian tourists, who have now reached safety, had earlier appealed for help on Facebook.
What about the rest of the island?
Thousands of homes have been damaged and hundreds have been left homeless as substantial aftershocks rocked Lombok and neighbouring Bali island.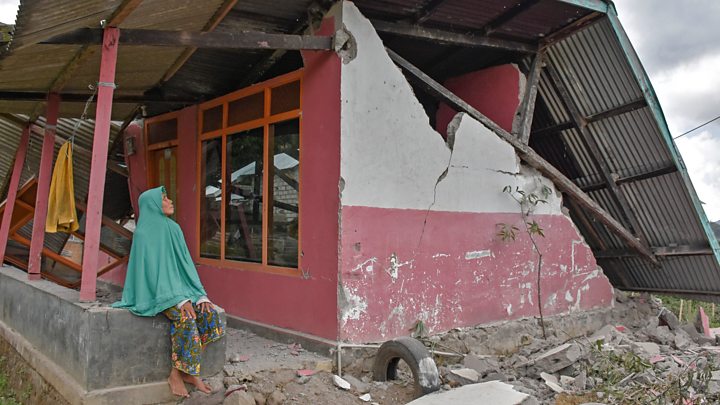 More than 5,000 villagers have been left in camps and the buildings destroyed included a health centre.
Mr Sutopo told local media they were in need of fresh water.
Indonesian President Joko Widodo has been visiting survivors.
Terrifying moment quake struck
Rebecca Henschke, BBC Indonesian, Lombok
The only health centre in Sembalun at the foothills of Mount Rinjani was damaged in the earthquake, so tents have been set up to treat the injured until ambulances arrive to take them to the nearest hospital.
Indonesians are no strangers to earthquakes but the power of the latest one has put people on edge. After each aftershock people run out into the open.
Clouds are gathering over Mount Rinjani where rescue workers are slowly bringing down the remaining hikers via alternative routes not affected by landslides.
In the tents among the injured is a porter who rushed down the mountain when the earthquake struck and is being treated for dehydration.
Videos filmed by guides on mobile phones captured the terrifying moment when the quake hit with people yelling for everyone to come down.
Are earthquakes common in Indonesia?
Yes. Indonesia is prone to earthquakes because it lies on the Ring of Fire - the line of frequent quakes and volcanic eruptions that circles virtually the entire Pacific rim.
More than half of the world's active volcanoes above sea level are part of the ring.
In 2004, a huge undersea earthquake off the coast of Aceh triggered a tsunami and killed more than 160,000 people in Indonesia alone.